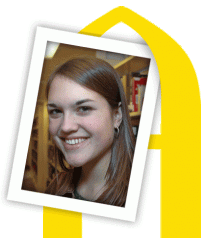 More Than I Imagined
Seniors reflect on accomplishments and look ahead
Kimberly Hedlin
Graduation year: 2011
Major: English
Minor: Religion and New Testament Greek
Activities: Clogustana, Ekklesia (Greek Bible study), Campus Ministries, Admissions Ambassador Program, peer mentor, Handel's Oratorio Society
Post-grad plans: I am going to UCLA to earn my Ph.D. in English. I hope to become a professor.
Are you where you thought you'd be four years ago? 
When I came to Augustana, I was 100% positive I would major in elementary education with a minor in psychology. Like so many other students, I switched majors when I fell in love with my English classes. The religion and NT Greek minors were also late add-ons that resulted from taking interesting classes.
If someone had told me everything I would do in my four years at Augie, I would never have believed him. Copyright my Honors Capstone project and present it at an education conference Work in the geology museum? Run in a 5K? Put the underskirt on a house on the Campus Ministries service trip? Start a clogging team and bring it to the state clogging convention? All these things were wonderful surprises.
Besides your family, who helped you get to where you are now? 
The close friends I've made at Augustana are…beyond words. I don't know what I'd do without them. The professors at Augustana are also truly wonderful. I don't want to make an exhaustive list because I'll undoubtedly forget some, so I'll just say that I've been intellectually and personally inspired by my interactions with them in and out of class. Four years ago, I had no intention of pursuing graduate study and would never have considered being a professor if they hadn't encouraged me.
A peak experience while you were here? 
My sister and I presented our Honors Capstone project at the Illinois Reading Council (IRC) conference, which was exciting and rewarding. For our project, we created a research-based poetry curriculum that uses clogging to teach abstract concepts like meter, onomatopoeia and rhyme. We shared our project with teachers at the IRC conference and received a lot of fun, positive feedback. Several of the teachers told us they couldn't wait to use our ideas in their classroom, which was a great feeling.
What did you learn about yourself in these past four years that surprised you?
Augustana has given me a much more complex and meaningful sense of my faith. I didn't expect that, and I really appreciate it.
Advice for this fall's incoming class (Class of 2015)?
Allow yourself to try new things and make mistakes. If you try something and aren't immediately good at it, don't make yourself give up right away.
"Kim is an excellent reader of literature, able to find patterns, apply theories, and distinguish styles and discourses like the professionals. But unlike most professionals, literary texts are alive to her. They speak to her own life and open up compassionate viewpoints on the lives of others. She gets literature and the liberal arts better than almost any student I've ever known."