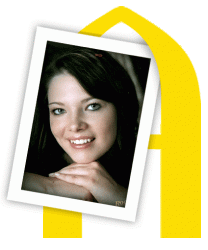 More Than I Imagined
Seniors reflect on accomplishments and look ahead
Kendra Mulcahy
Graduation year: 2011
Majors: Psychology and women and gender studies
Minor: Biology
Activities: Cheerleading, Psychology Club, Women and Leadership Symposium student coordinator, Dance Marathon
Post-grad plans: Work for the Handicapped Development Center in Davenport and help establish Dress for Success in the Quad Cities
Are you where you thought you'd be four years ago?
No, I was given many more opportunities then I ever expected, including access to community involvement, several internships, assistance in maintaining a part-time job and aid in connecting to individuals who helped me build my future career.
A peak experiences? 
My peak experience was realizing what I want to do after graduation. After a very inspiring internship at Edgerton Women's Health Center in Davenport and being the student coordinator for the Women in Leadership Symposium at Augustana, I realized I wanted to be a leader in an organization that assists underprivileged women find their true potential. As a result, I have been active in several organizations that do just that, and I hope to stay active in the Quad-Cities community.
What did you learn about yourself in these past four years that surprised you?
I have a lot more potential than I ever thought. At Augie I met a variety of individuals who have mentored me and shown me how to enhance my best qualities. This has allowed me to be recognized for talents I never thought I had and become more confident in myself.
Besides your family, who helped you get to where you are now? 
Augustana staff, faculty, close friends I have met on campus and the people in the community who have guided me on a very structured path. All of these individuals have given me the tools and confidence to prove to myself that there are no limitations to life.
Anything you'd like to add?
The small class size at Augustana has really allowed me to be more successful. It is not difficult at all to meet with a professor for extra help or advice.
Advice for this fall's incoming class (Class of 2015)? 
Get involved within the Augustana community and within the Quad-Cities area. Augie and the QCA have a number of resources that can lead you to a successful future after graduation. Also, take advantage of the faculty and staff at Augustana. There are great people everywhere who are very willing to help you with any issue you might have.
"Kendra's involvement in movements for gendered equality both on and off campus in the last few years has been impressive, and for that reason, I asked her to act as student coordinator for our first Women in Leadership Symposium. Her 'trial by fire' in putting this symposium together prepared her for real-life leadership, and attracted the attention of Dress for Success — sending her on the road to her post-graduation work. Kendra's work here has embodied the combination of learning and doing that is central to Women's & Gender Studies and to the liberal arts experience."