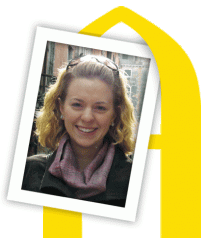 More Than I Imagined
Seniors reflect on accomplishments and look ahead
Katrina Jensen
Graduation year: 2011
Majors: Communication sciences and disorders (CSD), psychology
Activities: Symphonic Band, Clogustana, ASSHA, ELCA World Hunger, Campus Ministries, Admissions, peer mentor, Girl Scout horseback riding program and a therapeutic horseback riding program for kids with disabilities
Post-grad plans: Graduate school for speech-language pathology
Are you where you thought you'd be four years ago?
I tell people all the time, 'If you would have told me four years ago what my life would be like today, I would have said you were crazy!' I have had undoubtedly the most amazing, challenging, fun, difficult and rewarding experiences of my life in my years at Augie.
What did you learn about yourself in these past four years that surprised you?
My experiences at Augustana have made me come to see myself as fearless. I have found myself in challenging situations that I thought impossible, but in persevering and seeing how I have grown as a result, I have realized that with a little confidence, faith and help from friends, you can get through anything.
Your peak experience?
I was able to volunteer abroad teaching English in Bangkok, Thailand, the summer after my sophomore year, and it completely changed the way I view life. The kids at my school were so excited about learning and were so affectionate towards me and the other volunteers. My last day at the school all my 3rd and 4th graders lined up to say good-bye to me. They sang me a good-bye song, they each gave me a card that they had made, and then swarmed me and were all hugging me and holding on to me so that I wouldn't leave. I have never felt so special in my whole life, and that is a moment that I will never forget.
Who helped you get to where you are now?
My mom and dad are definitely my biggest fans—they believe in my dreams and go along with my wild ideas for things I want to do, even when I think they think I'm crazy sometimes. Also, my professors at Augie have helped me to identify my strengths and improve my weaknesses and use them to do things that I am passionate about. Lastly, my friends keep me grounded and keep me laughing and make sure I don't take life too seriously!
Advice for this fall's incoming class?
Take the time to think about what really makes you happy and what you really want to get out of your life. In the next four years, you will become the person that you will be for the rest of your life. Don't be afraid to try lots of new things and take chances, but don't over-schedule yourself either. You'd be surprised how much you can learn in those unstructured times with close friends.
Anything you'd like to add?
If there is one thing that this school has taught me, it is this: Do what you love, and love what you do. Life is too short to waste it doing things that we aren't really passionate about or complaining about things we can't change. If you can figure this out, life becomes infinitely more enjoyable and meaningful. The world is full of people who will go their whole lives and not live a single day. I sure don't plan on being one of them!
"While Katrina has not made a final decision regarding which graduate school she will attend, she currently is sitting on an absolutely remarkable list of acceptance letters, many with financial offers."