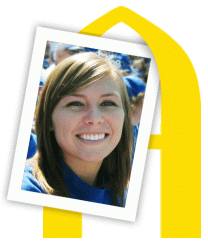 More Than I Imagined
Seniors reflect on accomplishments and look ahead
Janelle VanWatermeulen
Graduation year: 2011
Major: Business administration-marketing and management
Activities: John Deere internship
Post-grad plans: Full-time position at John Deere Dubuque Works, Dubuque, Iowa, in supply management; I also plan to attend grad school part-time to earn my MBA.
Are you where you thought you'd be four years ago?
No, four years ago I never thought I would have accomplished everything I have. I am graduating from Augustana in three years. I could have never accomplished this without the help and support from my family and friends. I would not change anything about my college experience.
A peak experience? 
My peak experience at Augie has been working part-time at John Deere Seeding Group in Moline, Illinois. I have worked at John Deere for three years now, and last summer I was able to travel to China for work! It was an amazing experience, and one I will remember forever!
What did you learn about yourself in these past four years that surprised you?
I have learned the importance of time management and how to prioritize. I have also learned that any challenge I am faced with I am able to accomplish. I am not usually a person to ask for help, but surprisingly, in college, I learned it is OK to ask, and to use your resources to their full potential. Everyone at Augie is very helpful, so just ask!
Besides your family, who helped you get to where you are now? 
The business department at Augustana and my advisor, Karen Petersen, has played a significant role in where I am today. Karen has been a great mentor. She is always willing to help me choose classes, work with me during my Senior Inquiry internship and give me advice about my career path. I am very thankful for everything Karen has done for me. My current John Deere boss has been another huge mentor in my college career. She has supported me through my three years at Augustana by being flexible with my work schedule, conducting practice interviews, providing great networking opportunities, giving valuable advice and always supporting me in my career and life decisions.
Advice for this fall's incoming class (Class of 2015)? 
Plan ahead! Try to get an internship or part-time job in your related field. Also, if you have an opportunity to study abroad, take it! I unfortunately was not able to, but I was able to travel with John Deere to China. Now is your chance to experience things you never thought you would!
"Janelle is a very bright business major who has done a great job of coordinating her classes with her part-time employment, applying everything from the classroom to her job and everything from her job back to the classroom."