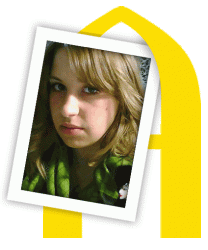 More Than I Imagined
Seniors reflect on accomplishments and look ahead
Holly Gore
Graduation year: 2011
Majors: Art education and studio art
Activities: SAGA Art and Literary Magazine
Post-grad plans: Teach art at a school in Illinois
Are you where you thought you'd be four years ago?
When I came to Augustana, I was interested in teaching and in creating my own art. I was not sure that I would be able to double major in these areas because I had been told at other colleges it was not even an option. Because I came to Augustana and worked hard to plan it all out, I will graduate with both majors and be a part of the senior art show!
Besides your family, who helped you get to where you are now?
Besides my family and friends, it was the faculty that helped me to accomplish my dream. The professors really get to know you and care about you here. I have had so many meetings and wonderful conversations with the professors; I have no idea where I would be now without them. The art department has always helped me to find a way to make both majors work. We had to plan out the classes and make sure I found a way into those classes, not to mention how much they have helped me to improve my artwork! The education department also has helped guide me immensely. My advisor is amazing as a professor and as a mentor. The education department helped to shape me into an amazing person and teacher; I owe a lot to them.
A peak experience?
In the summer of 2010, I was part of the St. Louis Teaching Internship. It was an amazing experience. We went there to teach the students of a Catholic School in a diverse neighborhood. It was the first time I taught my own art class, traveled on my own and worked with such a diverse student group. I had fun and learned so much from the people and experiences there. I grew and gained confidence as a teacher and as a person.
What did you learn about yourself in these past four years that surprised you?
When I came to Augustana I was concerned with what would happen when I was away from my family and friends from home. I am very much a people person and hate to feel like I am alone. The idea of coming to college and leaving behind the people I loved and counted on was very hard. But it was not hard to meet people and to find a new network of amazing people I could count on. Now that my time at Augustana is almost up, I am wondering what life will be like without the friends and faculty here. It is surprising how much I feel like a part of the school and its community!
Advice for this fall's incoming class (Class of 2015)?
Augustana is a small liberal arts school — utilize it! Here you really get to know your professors and the other faculty. Make sure to ask them for guidance. They really care and are always happy to help their students become the best scientists, anthropologists, psychologists, educators, artists and people they can be.
"Holly came to Augustana eager to learn and ready to take on challenges. She was exactly the type of student we hope for—excited, talented, committed and upbeat! Her four years here have proved that the right attitude, combined with taking advantage of Augustana's rich array of choices can shape a mature, well-prepared student. I am confident Holly will be an outstanding art teacher, influencing others with her contagious enthusiasm and confidence, bolstered by solid preparation and an openness to what the world has to offer."