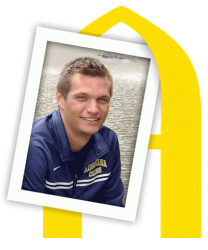 More Than I Imagined
Seniors reflect on accomplishments and look ahead
Ben Sharko
Graduation year: 2011
Majors: Secondary education and English
Minor: Speech
Activities: Cross country, track and field, CUBOM, OSA, Admissions ambassador, Club Ed, Athletes Giving Back
Post-grad plans: Teach high school English and coach
Are you where you thought you'd be four years ago?
I knew what I was going to major in during college, but as a freshman, I wasn't quite sure what else to expect. I couldn't have foreseen the long-lasting friends and countless memorable experiences I've had. I'm extremely happy with where my four years has led me!
Your peak experience?
That is nearly an impossible question! Every year in college seems to get better than the last.
What did you learn about yourself in these past four years that surprised you?
I used to be a person who always needed a 'plan.' Although I still do have that 'plan' to an extent, I have learned that it's perfectly all right to NOT have a plan. Plans always change anyway, and it is exciting to see what life brings me.
Who helped you get to where you are now?
Parents: They are the most supportive and loving parents that anyone could ask for; I'm extremely lucky. They supported, encouraged and guided me for the last 22 years.
Augie's Education Department: The brilliant and friendly professors helped to develop me into the teacher I am today.
Paul Olsen: One of the most optimistic, enthusiastic and nurturing people I have ever met; a phenomenal role model to anyone. Incoming freshmen, get to know him! Cross Country and Track Teams: I've made lifelong friends who have been through the highs and lows of life with me. AC YOU KNOW!
Advice for this fall's incoming class?
Soak up these four years! They truly fly by in a blink of an eye. Don't be afraid to get involved in clubs, activities or athletic teams on campus. Getting involved in Augie's campus really gives you the full college effect and allows you to meet so many awesome people!
"Ben has every quality that you'd like to see in a future educator—he is creative, refreshingly enthusiastic, passionate about his subject and about teaching itself, and deeply committed to working with young people and making the world a better place. He'll be an outstanding role model to future generations, the kind of teacher who will inspire inside and outside the classroom!"