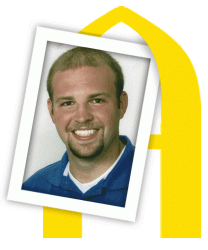 More Than I Imagined
Seniors reflect on accomplishments and look ahead
Andy Ehrhardt
Graduation year: 2011
Majors: History and secondary education
Minor: Endorsement in Middle School Language Arts
Activities: Symphonic Band, Campus Ministries, Admissions ambassador, Club Ed
Post-grad plans: Teach high school social studies and coach
Are you where you thought you'd be four years ago?
I knew I wanted to be a teacher. I just had no idea how invigorating the path to achieving my ultimate goal would be. I never could have predicted all that I have experienced and accomplished over the past four years. I would not take back a single moment or experience, good or bad, because they have all helped shape me into the person I am today.
What did you learn about yourself in these past four years that surprised you?
I never once found a challenge I could not handle. Even though some mountains may be taller than others, they can all be scaled if you have the ambition, persistence and tenacity to keep climbing.
Who helped you get to where you are now?
My parents have supported me every step of the way, and have instilled in me the invaluable aspects of hard work, dedication and persistence. No one will EVER be able to top that!
My professors at Augie, especially those in both the history and education departments, have also been extremely helpful in making me the teacher I want to become. They have helped me grow not only academically, but also as an individual who knows the values of creativity and collaboration. (I am able to Construct, Connect & Reflect in almost any situation!) Lastly, my friends at Augie are some of the best people I have ever met, and I am thankful to have each one of them in my life!
A peak experience?
If I had to pick one, my peak experience would be my trip to Holden Village, a remote village tucked away within the Cascade Mountains of Washington State. The five weeks spent at Holden changed my view of the world and of myself, and it was an unforgettable experience that I will always cherish because it helped mold me into the person I am today.
Anything you'd like to add?
If my liberal arts education at Augustana has taught me anything over the past four years, I think it is best summed up in the words of teacher John Keating (Robin Williams) in the film Dead Poets Society, when he proclaims, 'Carpe diem. Seize the day, boys. Make your lives extraordinary!'
"Andy is destined to be an extraordinary teacher, an educator who will bring creativity, enthusiasm, knowledge and positive energy into the classroom every day. He will inspire future generations, as a Viking that truly 'seized the day' during his years at Augie!"