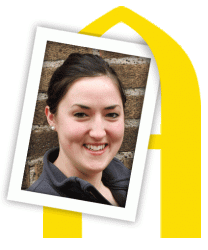 More Than I Imagined
Seniors reflect on accomplishments and look ahead
Ana Mullin
Graduation year: 2011
Major: Communication studies
Minor: Psychology
Activities: Advertising Developers, Alpha Delta Sigma Honor Society, Web Authors Guild, Communication and Marketing Office (sports marketing)
Post-grad plans: Work as an advertising account manager or in event planning
Are you where you thought you'd be four years ago?
I am far beyond where I thought I would be four years ago. I have had so many opportunities at Augustana. I have learned so much about what I want to do and gained so many skills just from the groups I have been involved with and the jobs that I have had on and off campus.
A peak experience while you were here?
My peak experience would have to be my Senior Inquiry in the communication studies department. I was given an opportunity to work with yogaG, a non-profit organization that offers free yoga instruction to victims of domestic violence. I helped organize a national public relations and advertising campaign with the founder and worked to make her organization grow. By the end of this project, she was featured in Fitness magazine and has had other publicity opportunities. I learned so much and was so surprised with how much I already knew from past experiences and classes.
What did you learn about yourself in these past four years that surprised you? 
I learned that I am capable of so much more than I thought. I never knew how far my ambition could take me before the last couple of years. I worked my way to president of Advertising Developers and find myself teaching others. I have learned that I am very open to new experiences and that I don't enjoy doing anything that is not going to challenge me. I think that is the most valuable thing I have taken from my college experience.
Besides your family, who helped you get to where you are now?
Doug Tschopp, my club advisor, professor, mentor and friend, has been the most influential person that I have met during my time here at Augustana. On top of teaching me everything there is to know about advertising and public relations through the Advertising Developers group on campus, he taught me to recognize my passion and to never pass up an opportunity that will allow me to achieve it. Additionally, I have the world's most incredible friends who have kept me sane through endless laughter and support, unforgettable pranks and copious amounts of brownies and puppy chow. I would not be the same person without them.
Advice for this fall's incoming class (Class of 2015)? 
You will take so much more than a diploma from Augustana, but you need to keep an open mind to realize that. These will be the fastest four years of your life, so take any opportunity that presents itself. Use your time wisely and don't take anything for granted.
"Ana put her lessons in communication studies into practice in a variety of experiential learning opportunities. Her participation in the Advertising Developers group has provided Ana not only with professional advertising skills, but development of her organizational and leadership talents. All of this work culminated in an impressive civic engagement Senior Inquiry project aimed at bringing a worthy resource to those in the community who can benefit from it."