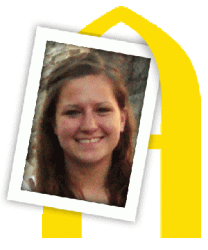 More Than I Imagined
Seniors reflect on accomplishments and look ahead
Amanda Dennis
Graduation year: 2011
Major: Business administration–management and marketing; accounting
Post-grad plans: Full-time management trainee with Enterprise Rent-A-Car
Are you where you thought you'd be four years ago?
No. I can honestly say I am a different person than I was four years ago, in a good way of course. I am more open to experiences and have had the opportunity to develop as a leader on campus and in the community. I have reached out of my comfort zone and learned new things that have helped me to develop from a shy, quiet individual to an outgoing and confident businesswoman.
Your peak experience?
Visiting Rome in 2010 was quite possibly one of the best experiences of my life, and I learned a lot. I was able to experience a different culture and learn about the history of Rome while having fun at the same time. I plan to go back.
What did you learn about yourself in these past four years that surprised you?
I came to this school as a soft-spoken individual with the dream of becoming something big. I never thought I would have the opportunity to become president of Business Club, captain of the cheerleading squad or co-chair for one of the largest job-shadow events on campus. Augustana has not only changed the way I view things, but also transformed me into a strong leader.
Besides your family, who helped you get to where you are now?
I would have to say my first-year advisor, Karen Petersen. I met her the summer before my freshman year, and she helped me obtain an internship that summer. She has been my advisor since then and has challenged me to always strive for success and take advantage of what Augustana has to offer. She has helped me plan my schedule, offered me advice and, most importantly, given me the confidence I need to take the next step in my career.
Advice for this fall's incoming class?
Have fun and get involved as much as you can — but not too much! I can't believe how fast these past four years have flown by, and I could not have enjoyed my college experience without the extra activities. The important thing is to find balance between your school schedule and your extra-curriculars. Get involved in a few clubs and stay committed to them.
"Amanda has been my go-to person with any Business Club activity for the past two years. She is a very, very dependable person, and she always fulfills her many responsibilities with a smile on her face. In addition, she is a fun (and funny!) person to be around. I met her as she completed her first internship during the summer before her first year, and now I have the pleasure to work with her again as she completes her senior capstone internship during her final term at Augustana. I will miss her very much."