December 2017
The elves of Augustana
Christmas is evident all over campus. It's the holiday that brings out the elf in us. But some staff members do more than others, and though they say it's only their job, we know better.
Take Christmas at Augustana: What giant festoons the ceiling of Centennial Hall? Who makes the magical gobo images that light the walls on either side of the stage?
And how is it that, just as the applause dies down, the bells of Old Main begin ringing? It's Sam Schlouch of advancement who runs up to start the carillon as soon as Danielle Roman of the ticket office texts him the go-ahead.
Danielle and Mike Turczynski, performance hall technician, are the A team behind Christmas at Augustana. They plan the color scheme in early summer, toss around design concepts with the music directors and graphic designer Rebecca Zitzow, and send out 6,000 invites before tickets go on sale October 1.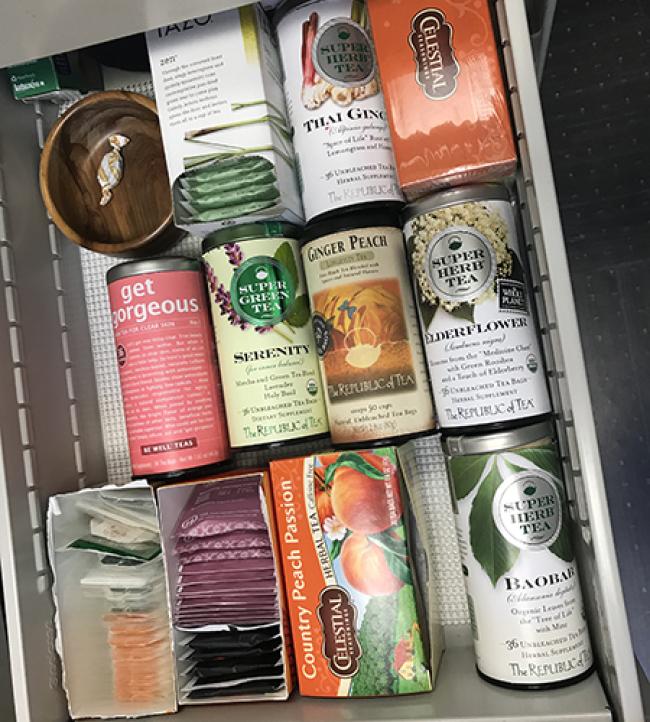 Mike was especially happy about this year's custom-made gobos, designed by Rebecca and made of glass instead of metal. "He was giddy," Danielle said, "and that's not a word often used with Mike."
Having worked with glass gobos in theatrical presentations for years, he knew they would create better, sharper color. Being colorblind, however, complicated Mike's preparations.
Quite late, he discovered that the dozens of ornaments for Centennial's trees were purple—not blue. So he quickly placed an order for new ones on Monday before Thanksgiving, expecting them Wednesday in time to decorate for the weekend's performances. Unfortunately, the truck bearing the ornaments caught on fire and couldn't immediately leave the warehouse.
("Wait, what?" queried a student worker. "The TRUCK CAUGHT ON FIRE?" "Yeah, it caught on fire. But that was last week," Mike replied. "This is this week. Let's go.")
"In the theatre world, we say 'It is what it is,' and you just keep moving along," Mike said. The blue ornaments appeared on the trees just in time.
Meanwhile, the large spruce tree outside Old Main had been lit for days.
The annual tree-lighting event begins with a few words by President Bahls and a gathering of the college community, cocoa in mitts, holding their breath to see if the connection will take and the tree light up. It did, as it always does, thanks to our electrical team of John Peters and Jay Wilke.
The grounds crew in facilities spends much of the fall making room for snow on campus. Grounds Manager Tony Gustafson estimates the leaf vac collects and mulches about 160,000 cubic feet of leaf material—enough leaves to fill two Olympic-sized pools.
According to Tony, once mulched and shredded in the leaf vac, the material compresses to only 10% of its original size. Much of it is brought to Augie Acres, "for mulching of garden areas to suppress weeds and improve soil structure," he said.
"In some areas of campus we don't need to collect the leaf material because we are able to blow the leaves back into the woods," Tony added.
Their goal is to remove leaves before they begin removing snow. As we wait for the snow, perhaps the grounds crew can relax a bit. But the festivities are not yet over.
Rearranging a poinsettia on top of the safe in her office, Danielle remarked that most things have gone smoothly. And the recent hiring of Kevin Carton as the manager of performance tours and arts promotion has brought "fresh eyes and helpful tips and plans for next year," she said.  
Kevin arrived ready for the present season, too. Christmas at Augustana was streamed live on WQAD thanks to a sponsorship he secured, and Kevin himself played piano for the guests at Christmas Dinner.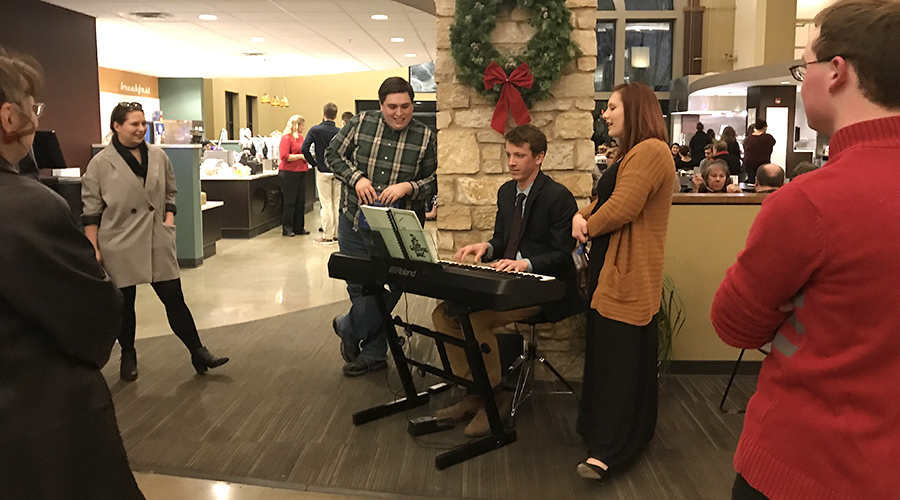 Fifty requests for problem-solving
For five years, the Upper Mississippi Center (UMC), based in CORE, has leveraged the expertise and interest of Augustana faculty and students to improve nearby counties and communities. During the college's first partnership with Clinton, Iowa, classes worked on a number of city projects, including taking oral histories from strikers, improving library operations and GIS crime mapping.
Most recently, the UMC organized an initiative with the Scott County Health Department to address high levels of lead-based paint and prevent poisoning. As the UMC concludes its two-year partnership with the Scott County Health Department, it is once again accepting proposals from surrounding communities. 
So far, a half-dozen municipalities have sent nearly 50 proposals. During this initial, informal phase of "matchmaking," the UMC will review preliminary proposals and talk with faculty to gauge interest in various projects.
Dr. Alex Cohen, UMC program manager and assistant professor of political science, noted Augustana's growing popularity among local municipalities eager for scholarly input: "The first time around, UMC sent out a call and there were a few takers, but there was also some hesitancy," he said.
"However, folks saw what we did in Clinton and recognized our work in Scott County. Now, as we're seeking new projects, more and more cities have expressed a willingness to commit, giving us more options."
Becoming involved with a UMC project challenges Augustana faculty and students to apply their academic knowledge in a specialized local setting. "It's very focused and specific," Dr. Cohen explained. "It isn't exactly volunteer work, but rather delivering what we have learned and having that implemented as policy, which is cool."
Through the UMC, Augustana students and faculty solve problems that currently hinder communities. "Whether it is making recommendations to small businesses on how they can improve their practices, or designing a public opinion poll to understand how people feel about the question of lead poisoning, they are responsible for delivering the final reports," he said.
By next spring, the UMC will develop a clear list of proposals and formally select a partner. The chosen project(s) will depend upon many factors, including relevance to course curricula, student and faculty expertise, ability to deliver within a certain time frame, level of critical need as determined by faculty and the UMC, and more.
Faculty should contact Dr. Cohen or Director of the UMC Michael Reisner if they would like to learn more about working with the UMC.
Field Notes
By Jon Hurty, Henry Veld Professor of Music
For those who have attended Augustana's Messiah performances in the past 8-10 years, you are aware that the piece has largely focused on the Christmas portion—so much so, in fact, that we have been calling it a "Christmas Messiah." Yet George Frideric Handel's Messiah was first performed at Augustana in the spring of 1881, by the newly founded Handel Oratorio Society. The group performed Messiah, as well as other choral works, in the springtime for 35 years.
In 1916 Messiah performances moved to December, where they have remained—until this year. On Palm Sunday, March 25, 2018, the Handel Oratorio Society will hearken back to its roots, and once again perform Messiah in the spring.
The new performance date is partially due to Augustana's upcoming move to semesters. It won't be possible for us to continue performing both Messiah and Christmas at Augustana within a two-week span right before finals when students are busy with their exams, papers and presentations.
The change also moves the piece back to a place in the church year that was originally intended by Handel himself. Messiah was composed for the season of Lent and was first performed by Handel in Dublin, Ireland, in April of 1742.
"… since we have not sung a number of the choruses for about eight years, it's almost like starting over again."
Refocusing our performance on the passion and resurrection of the Messiah highlights the core message of the work. Moving Messiah back to the springtime also provides an opportunity to bring back many of the most beloved choruses, like Behold the Lamb of God, And With His Stripes, and All We Like Sheep.
Rehearsals have been somewhat of a challenge. In past years, most everyone already knew the notes and rhythms of all the choruses that we are singing. However, since we have not sung a number of the choruses for about eight years, it's almost like starting over again. So we began rehearsals as we normally do, on the first Monday of October, but we are taking a break over the holiday season.
While difficult in some ways due to the more recent performance tradition here at Augustana, the change provides new opportunities to explore the piece as it was originally intended. Allowing students to experience great music in its original context is a key element of performing and exploring music at a liberal arts college like Augustana.
New Faces on Campus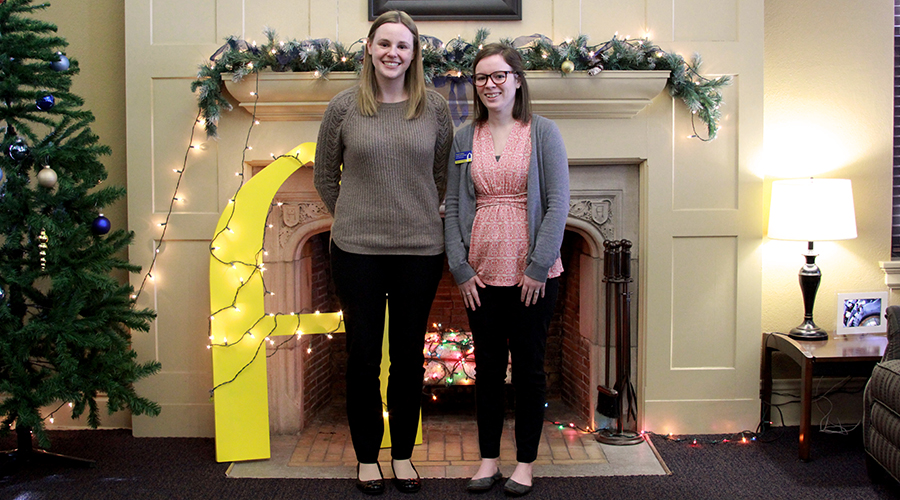 Kalah Lindsey, campus visit coordinator (right)
B.A. English, Bradley University
Kristin Reinhardt, financial aid counselor (left)
B.S. elementary education, Bradley University
Kalah Lindsey and Kristin Reinhardt both graduated from Bradley University but met for the first time when they began working at Augustana this year.
"I was interviewed by my entire department, and they were just so friendly," noted Kristin. "That's what sealed the deal for me."
Also impressed by Augustana's interview process, Kalah commends student-focused initiatives like FYI courses, Augie Choice and CORE. She discovered her love of higher education while serving non-traditional students at Spoon River College in Macomb, Illinois.
"Now I mostly work with parents," said Kalah. "It's not a bad thing, but that surprised me. The population is a lot different."
After gaining experience in public elementary schools and other higher ed institutions, Kristin looks forward to engaging with the unique Augustana community and greater academic collective.
"I've already attended a financial aid training conference in Orlando," she said. "The U.S. Secretary of Education was there, and it was interesting to see the real people behind those regulations. I learned a lot and enjoyed the sunshine… What a pleasant surprise!"
In their daily roles, Kristin and Kalah want to establish the same sense of belonging for prospective students that they felt as newcomers at Augustana.
"I hope we remain intentional when recruiting students and make them feel like they're really wanted here," Kalah said. "… Where you instantly feel like you're a part of this family and you're wanted and cared for," added Kristin.
From the Cabinet
Gail Summer, Provost and Dean of the College
With the Advent season upon us, we are surrounded by anticipation and waiting. Anticipation also very much describes the work on our campus as we transition to semesters and a four-credit course base. While our Transition Coordinators keep us up to date on the specifics of our progress, I thought I'd share why this is such a special opportunity in the life of a college. 
The shift to a semester calendar with a January Term will provide exciting new opportunities for students and faculty alike. The J-Term will especially offer an experience currently unavailable in the Augustana program. The three weeks of this intensive term will allow total immersion in only one course. 
"It truly is a very special opportunity to examine each and every course, rethink course sequences, and assure content is cutting-edge."
Students engaged in similar kinds of experiences in their undergraduate programs on other liberal arts campuses typically report the tremendous impact of an intensive learning opportunity. While some institutions limit how many such intense courses students might take, Augustana students will be able to enroll in one every year! Faculty members themselves will be immersed in the design of J-Term courses for the rest of this academic year, so stay tuned as this develops further.
While the transition to a semester calendar is huge, the decision to pair this with a shift to the four-credit base is what truly makes this special. Faculty currently are steeped in examining their programs of study and asking how they might make the learning experience even better. 
While faculty are always engaged in continuous improvement and reflection on student learning, the typical result is usually a revised course or assignment, or perhaps an addition or deletion of a course in a curriculum. It truly is a very special opportunity to examine each and every course, rethink course sequences, and assure content is cutting-edge. 
The work has been progressing well, and our various committees engaged in approval processes are very busy! Faculty are using this—as the ultimate opportunity it is—to start as if with a blank slate and design anew.
As faculty are beginning the transition, changes will be trickling out into every corner of our campus. We all will experience more anticipation and waiting until the fall of 2019, when our new calendar and curriculum will begin—but what an opportunity this is!
Seen & Heard
"The most important thing Holden taught me was to live in the present, because you can't re-live what you are living now." — Julia Meyer '18, history major, geology and German minors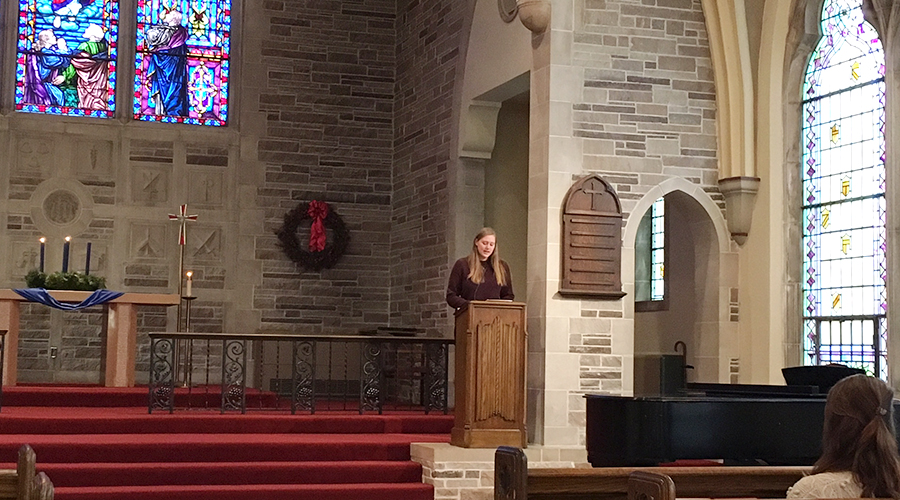 Acknowledge is published by the Office of Communication and Marketing at Augustana College in Rock Island, Illinois. Contact Beth Roberts, editor. Rachel Reiter '18, Augustana Writers Bureau, is the author of "New Face on Campus" and "Fifty requests for problem-solving." Photos are by Juliana Keaty '20 and Amanda Moore '18 of the Augustana Photo Bureau, Beth Roberts and Danielle Roman.