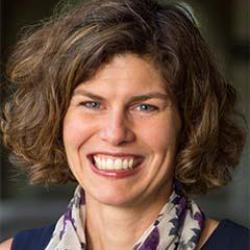 Wendy R. Kelley
Associate Director of Admissions
Colleges attended: Augustana College, '92: BA in Geography, Biology, minor Environmental Studies; University of Iowa, '98: MA in Higher Education  
What do you most love to tell prospective students about Augustana? Augustana is a beautiful campus in a friendly community. There are many academic and extracurricular opportunities to choose from, as well as world-opening experiences like study abroad, internships and hands-on research. Augie Choice ($2,000 available to students to defray non-tuition costs of international study, internships, and research) is Augustana's commitment to making experiential opportunities a high priority.  
What is your favorite time/tradition of the Augustana school year? Every season here is beautiful, but my favorite is spring! The flowering trees are magnificent and the feel of our wooded campus coming to life is invigorating. I love to see students sitting outside studying and it makes me smile when I see professors bringing their classes outside.  
What's great about the Quad Cities? You can find shopping, entertainment, recreation and work all only minutes apart in an affordable, friendly community.  
What do you like to do around the community? I love the outdoors; there are great parks, bike paths, and other recreational opportunities--so much to do along the Mississippi River! The Quad Cities has great venues for live music, several museums, two botanical centers, and lots of fun spots to find good food. There's even the famous tug-of-war across the Mississippi River that stops all river traffic for three hours--a must-see event each August!  
Do you do volunteer service in the community? Where? I coach my children in local sports leagues, am a member of the curriculum planning committee in my children's school district, and volunteer for our school's PTO as well as volunteer in the classrooms. I'm a member of my community's Friends of the Library organization and I'm a planning committee member of an annual race event/fundraiser in Port Byron that raised over $70,000 in the last 4 years towards Ewing's Sarcoma cancer research. I'm also a 2nd grade religious education teacher (First Reconciliation and First Communion!) and serve in various liturgical roles at my church.  
What advice do you have for students who are searching for the right college for them? Think about how you want to look back and remember your college experience...visit colleges, ask questions, talk to current students, sit in on a class, go to a practice. You'll know when you've found the right place. It's not just what you'll do after 4 years that is important, it's who you will become in those 4 years. 
Specializations: Admissions
Education
A.B., Augustana College
M.A., University of Iowa