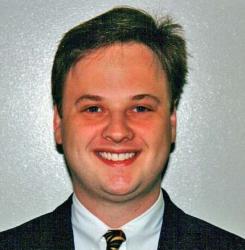 Tony J. Oliver
Assistant Professor of Music; Percussion, Percussion Methods, Music Appreciation, Percussion Ensemble, World Drumming
Tony Oliver is an assistant professor of music and teaches music appreciation courses, in the FYI sequence (a liberal arts sequence for the first-year college student), and all things percussive.
Away from the college environment, he is often a clinician and adjudicator for percussion events, and is particularly involved in the New Horizons Music program, a life-long learning environment designed around the older adult musician. In conjunction with this program, he has taught at numerous camps and workshops throughout the United States.
He is the solo percussionist and timpanist for the Lake Placid Sinfonietta and a member of the Quad City Symphony Orchestra. Various other chamber and solo engagements round out his performance schedule each year.
He received degrees from the University of Iowa (BM, MA), where he studied with Thomas L. Davis, and from the Mason Gross School of the Arts at Rutgers University (DMA), where he was a graduate fellow and studied with She-e Wu.
Dr. Oliver is a regional education artist for Pearl/Adams percussion, a Sabian cymbal artist, and proprietor of Curving Walkway Publications, whose percussion publications have been performed throughout North America and Europe.
Email him for office times and appointments.
Education
B.M., University of Iowa
M.A., Univeristy of Iowa
D.M.A., Mason Gross School of the Arts, Rutgers University