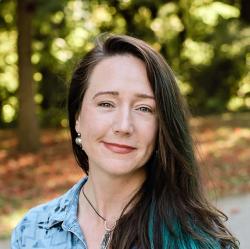 Tierney Brosius
Associate Professor of Biology, Dr. Larry P. Jones Endowed Fellow in the Natural Sciences
• Tierney Brosius talks about "The Beauty of Insects"
I am an entomologist with special interests in insect conservation, urban ecology, and cultural entomology.
I have an active ongoing research program that currently focuses on ground beetle diversity within urban landscapes. My goal is to understand how mesophication (lack of naturally occurring fire) and urbanization interact to influence forest ecosystem composition and structure at multiple trophic levels.
Undergraduate students from Augustana have been directly involved in the data collection of many of my projects and have had the opportunity to present our results at  local and national scientific meetings. I am currently working on multiple student co-authored peer reviewed manuscripts.
In my classrooms you will find a student-centered approach. My students are given the opportunity to become actively engaged with the material. I am very passionate about students understanding the importance and application of what they are learning in the classroom. Even while my class is learning about something as specific as the life history of a squid or a jellyfish, we are constantly relating that information back to the larger picture of ecology and evolution. 
Specializations: Insect ecology, Upper Mississippi Center
Education
B.S., Wayne State College
M.S., Ph.D., University of Nebraska - Lincoln