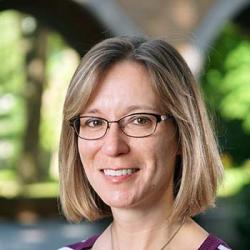 Stefanie R. Bluemle
Research and Instruction Librarian and Assistant Professor
I am the Augustana library's liaison to the departments of history, philosophy, and religion. In other words, I work with those departments to ensure students have the discipline-specific research skills they need for the major or minor, and to provide research resources relevant to the departmental curricula.
I also work extensively with Augustana's first-year Liberal Studies program, teaming up with faculty to introduce college-level research skills in their classes. For a number of hours each week, you can find me helping with research questions at the research help desk on the library's second floor.
When I'm not working with students and faculty directly, I'm usually focusing on my role as the library's instruction coordinator, which means that I provide leadership and organization for our program of collaborating with classes and departments to teach students about academic research.
I came to librarianship indirectly, after a few years of graduate study in English. While I enjoyed the study of literature, and loved teaching composition to undergraduates, I ultimately regretted the ways in which specialization in one area of literature drew me away from my varied other interests. By this point, though, I felt at home in academics and wanted to continue teaching, so becoming an academic librarian seemed the logical next move.
Now, I draw on my combined background in library science, English, and teaching first-year composition to approach library research as an integral component of the larger process of writing and analysis, including making claims and entering an academic conversation. I have both published and presented about teaching and assessing higher level research skills in library instruction programs. I am also currently working on a project related to the role of librarians and librarianship within academic institutions.
Specializations: Library, Academic librarianship, Information literacy, Assessment
Education
B.A., Augustana College
M.A., M.L.S., Indiana University Bloomington