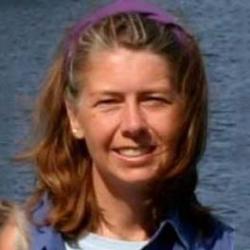 Stacey Rodman
Associate Professor Mathematics and Computer Science
When I started college – at Gustavus Adolphus,  a school much like Augustana –  I had no idea what I wanted to be "when I grew up."  Everybody around me seemed to have such clear plans, not only what major, but which minors or even what program they were going to enter after graduation.  
I was desperate for some goal to work toward. My dad told me "Take the classes you enjoy and it will work out." I took chemistry, physics, computer science…  but still didn't feel like I knew what I wanted to do. Then I realized I had taken every math class I could at Gustavus and I still wanted to learn more.
I was amazed to learn I could get paid to go to grad school. I got a teaching fellowship at the University of Oregon.  That is where I found I not only loved to do math, I  loved to teach math. 
I tell my advisees to take classes because they enjoy them  and it will lead to a career they enjoy … Augustana is a good place for that, time to explore options, a huge variety of classes to take and the liberal arts requirements as motivation to take classes you might not otherwise consider.
Education
B.A. Gustavus Adolphus
M.A., Ph.D. Oregon