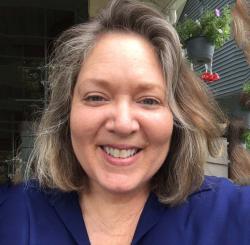 Sharon M. Varallo
Professor of Communication Studies, Violet M. Jaeke Chair of Family Life
Sharon Varallo is the executive director of the Augustana Prison Education Program (APEP), which launched in fall semester 2021.  
In that role, Dr. Varallo coordinates the grant-funded B.A .degree program to Augustana students incarcerated in the East Moline Correctional Center. APEP was implemented with generous startup monies from the Austin E. Knowlton Foundation.  
Her academic interests include the study of higher ed in prison, intercultural competence, cultural approaches to time, family communication, and social action research methods. During her career, she has published work on the scholarship of teaching and learning and on interpersonal and family communication topics.  
She has thoroughly enjoyed teaching and accompanying students in numerous off-campus programs (including in China, Japan, Peru, Mexico, Guatemala and the wilderness of Holden Village in Washington's Cascade mountains).
Specializations: Time cultures, Family, Police interrogations, False confessions, Intercultural communication
Education
B.A., William and Mary
M.A., North Carolina
Ph.D., Ohio State