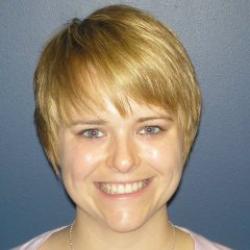 Samantha A. Keehn
Continuing Lecturer-Assistant Professor, Low Brass
Samantha Keehn is currently the Low Brass Instructor at Augustana College. Dr. Keehn teaches trombone, euphonium, and tuba students as well as in the General Education and Music Education programs.  In addition to teaching, she is an active freelancer in the area.
A native of Victoria, TX, she has studied with Don Lucas and Brent Phillips at Texas Tech and Baylor, respectively. She has also studied with Dr. William Stanley while earning her D.M.A. in Trombone Performance and Pedagogy. 
Dr. Keehn has a newly published etude book by Mountain Peak Music called Beyond the Notes and Rhythms: A Practical Approach to Teaching Musical Expression.  She has presented her research and method exhibited in this etude book at the International Women's Brass Conference (2010), The Big XII Trombone Workshop (2010), Illinois Wesleyan (2011), and the Tubonium Conference (2011). 
She has also won numerous awards and grants, including the Bronze Medal of the Senior Wind Division at the Fischoff Chamber Music Competition, winner of ETW Jazz Bones Competition, the Best Should Teach Silver Award at the University of Colorado, and winner of the ITA Emory Remmington Trombone Choir Award.
An active performer, has performed with the Wyoming Symphony, Fort Collins Symphony, Colorado Light Opera, Victoria Symphony, Roswell Symphony, and the Waco Symphony.  Dr. Keehn also participated in the Hot Springs Orchestra for two summers, the Rafael Mendez Institute, and the Masterworks Festival Orchestra. She has also performed at ETW, ITA, TMEA, the Big XII Trombone Workshop, ITEC, Tubonium, and IWBC.
Education
B.M., Texas Tech
M.M., Baylor
D.M.A., Colorado