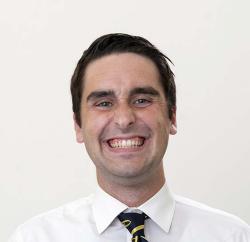 Rob Williams
Assistant Director of Admissions, Chicago Region
Hometown: Vernon Hills, Ill.
Current town: Schaumburg, Ill.
What do you most love to tell prospective students about Augustana? 
I love to tell them about all the various clubs, activities, and events on campus. There's something for everyone, but if you want to bring something new to campus, there's a faculty or staff member at the college who will help you make it a reality. What makes the Augustana community so vibrant and welcoming are all the small communities that our students and staff have created. 
What is your favorite time/tradition of the Augustana school year? 
My favorite time of year is when the leaves start changing color and falling off the trees in the Slough. It's beautiful scenery for your walk to class, the Gerber Center, or your residence hall. 
What's great about the Quad Cities? 
The community. Whether it's food, events, or even a simple conversation, everything is warm, welcoming, and full of possibility and new experiences. If you're looking for places to eat in Rock Island, make sure to check out La Rancherita, QC Pancake House, and/or Pizza & Subs! 
What do you like to do around the community? 
I coach high school track and field athletes, and I am also active in a non-profit group called the Illinois Leadership Seminar (ILS). ILS helps Illinois high school students unleash their leadership potential and make an impact on their communities. In addition to helping out with the flagship seminar each year, I am also an at-large member of the ILS Corporate Board. 
What do you enjoy doing outside of work? 
I love to run, and specifically I like training for anything from a 5k to a marathon. I also love reading books about history or geography, and I also enjoy fishing and kayaking when the weather is nice.
What advice do you have for students who are searching for the right college for them?
Make sure to know the "whys" behind your college decision-making. Make decisions on majors or activities or schools because you know that it's the best fit for the person you are now, and because they will help you become the person you want to be. 
 
Specializations: Admissions
Education
B.A., Augustana College, 2019
M.A., Pittsburg State University (2024)