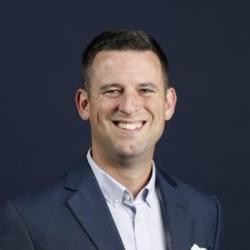 Mike Pettis
Director of Enrollment Strategy, Athletic Recruitment and Operations
Mike is a Quad Cities native and was a initially drawn to Augustana as a student. During his four years on campus, he competed in track and field, sang in the choir, and served as a student-worker for athletics/admissions.
In 2009, Mike graduated with majors in business administration (finance) and speech communication and began his role in the Office of Admissions shortly thereafter. His role is a combination of Slate CRM captain, enrollment operations leader, coordination of enrollment data and reporting, vendor partnership management, and athletics liaison and recruitment support. Mike also served as assistant track & field coach for 14 years.
Mike and his wife Molly are high school sweethearts and have been married since 2009. They live in Davenport and are extremely proud parents to daughters Mae and Elle. Mike is also an avid golfer and runner, member of the St. Paul Lutheran Church chorale (Davenport, IA) and Green Bay Packers fan.
Specializations: Slate, CRM, Athletics, College recruitment, Enrollment strategy, Operations