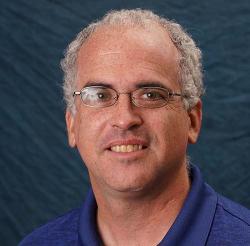 Michael C. Egan
Associate Dean of Academic Affairs, Associate Professor of Education
Prior to arriving at Augustana, I spent 13 years working as a mathematics "educator" (either as a middle/high school teacher or a researcher or both). Seven of those years were spent as a teacher at Alpha Academy in Kingston, Jamaica; the remaining six were spent in Boston as a graduate student/part-time teacher/part-time researcher. 
I joined Augustana's Education Department in 2008 as its mathematics specialist.  I have advised and supervised Augustana's Mathematics Education majors every year since then, and have also consistently taught the mathematics teaching methods courses for both Elementary Education majors (EDUC 364) and Secondary Education Majors (EDUC 384).  I have taught numerous other courses at Augustana, including courses outside of the Education department such as First Year Inquiry courses and Liberal Studies Composition courses.  
In 2018 I took on the role of Associate Dean of the College with responsibility for curriculum, assessment, and faculty development.  This role has provided me with a broader perspective on the College as a whole, and has enabled me to collaborate with colleagues throughout the campus.  I continue to teach and advise Mathematics Education students on a part-time basis, and am grateful that Augustana has enabled me to take on some leadership responsibilities via the administrative post while allowing me to stay directly connected to the fundamental work of the College which is to teach and mentor our students.
Perhaps my favorite responsibility at Augie is my co-directorship of the Augustana Jamaica Program.  This bi-annual study-away program brings Augustana students to Jamaica to tour the island and to spend significant time in Kingston schools as teaching interns.  This program has enabled me to continue nurturing professional and personal relationships I developed as a teacher in Jamaica earlier in my career.  The Jamaica Program has proven to be a powerful experience for Augustana student participants who are able to immerse themselves in Jamaica's vibrant culture while gaining appreciation for the Jamaican approach to schooling.  You can follow the Augustana Jamaica Program on Facebook at https://www.facebook.com/pages/Augustana-Jamaica-Program/346232785404783?ref=hl or by visiting our blog at https://augiejamaica.blogspot.com/ .
Specializations: Mathematics education
Education
B.S., Notre Dame
Ed.M., Harvard
Ph.D., Boston College