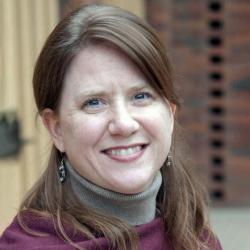 Melinda Pupillo
Campus Chaplain and Director of Spiritual Development
Before coming to Augustana in 2021, the Rev. Melinda Pupillo served as pastor in Holden Village, a remote Lutheran Christian retreat center in Washington's Cascade Mountains, where she supported a religiously diverse and non-religious community.
Before arriving in Washington, she spent 13 years in La Crosse, Wis., serving in various roles. As associate pastor, she led a congregation of 1,350 members at English Lutheran Church there from 2005 to 2016. She also served as program and retreat coordinator at the Franciscan Spirituality Center as well as interim pastor at Trinity Lutheran Church in LaCrosse until August 2018.
She also has experience working abroad in Peru and Guatemala and speaks Spanish.
Rev. Pupillo coordinates religious and spiritual life on campus and supervises the worship planning team and student leadership team. She works beside counselors and others within the student life team, with a particular focus on the spiritual health and growth of Augustana students.
She also acts as one of the college's primary liaisons with the Evangelical Lutheran Church in American and the Northern Illinois Synod, and advises the President's Cabinet in matters of institutional values and mission. 
Specializations: Campus Ministries
Education
B.A. , Spanish and theology, Valparaiso University
M.Div. , Lutheran School of Theology at Chicago