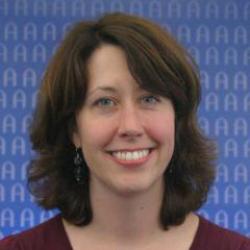 Meg E. Gillette
Professor, Chair of English
Meg Gillette received her B.A. from the University of Iowa and her M.A. and Ph.D. from the University of Illinois in Urbana-Champaign.
Her research and teaching interests include 19th and 20th century American literature, women's literature, and midwestern literature.
Dr. Gillette is the chair of the English department, a member of the Women's and Gender Studies advisory board, and the faculty advisor to Unabridged, Augustana's English club. 
Her articles on 19th and 20th century literature have recently appeared in Modern Fiction Studies, Studies in American Fiction, Twentieth-Century Literature, and American Literary Realism. Her 2021 article on Davenport writer Alice French won the David D. Anderson Award for Outstanding Essay in Midwestern Literary Studies.
Specializations: American literature, Composition theory, Women's studies, Gender studies
Education
B.A., Iowa
M.A., Ph.D., Illinois