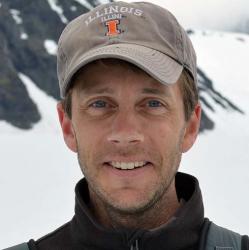 Mark Safstrom
Associate Professor of Scandinavian Studies
Scandinavia and the Nordic region may be a small corner of the world, yet are dynamic societies with rich histories, literatures, and cultures.
From the Viking age over 1,000 years ago to the present day, these northern societies have had a global presence, and continue to shape the discourse of the international community in terms of social policy, technological innovation, the arts and popular culture.
The courses and study abroad opportunities that we offer at Augustana serve to provide students with a broad, thorough understanding of what has shaped Scandinavian distinctiveness through various historical periods.
Scandinavia is also where Augustana begins! Scandinavian studies allows students to explore the rich history of the college, from its founding by Swedish immigrants a century and a half ago, as well as participate in its ongoing traditions and partnerships with Scandinavian schools.
My interest in Scandinavia was solidified while studying abroad in Sweden in college. Following the sage advice of my professors, I combined my undergraduate degree in history with a double major in Swedish, which led to graduate school and many, many research visits in Stockholm, Uppsala, Northern Sweden, and even Svalbard.
At Augustana, I teach courses in Swedish language and Scandinavian literature and history. Before coming to Augustana, I previously taught at the University of Illinois at Urbana-Champaign (2010-2017) and the University of Washington (2007-2010).
My research has focused on 19th and early 20th century Scandinavian history, with emphasis on the so-called "folk movements" (the temperance and labor movements, and the religious revivals), and I have written on various aspects of Scandinavian-American history, polar exploration, Lutheran Pietism and Scandinavian religious history. Some of my publications include:
Books and film
God's Glory, Neighbor's Good: The Story of Pietism. Documentary film co-written with Michelle Clifton-Soderstrom, narrated by G. Timothy Johnson. (Vision Video 2017)
Silliness & Stillness: A History of Covenant Point Bible Camp in Michigan's Upper Peninsula. (2017)
The Religious Origins of Democratic Pluralism: Paul Peter Waldenström and the Politics of the Swedish Awakening 1868-1917. (Wipf & Stock 2016)
The Swedish Pietists: A Reader: Excerpts from the writings of Carl Olof Rosenius and Paul Peter Waldenström. Edited, translated and introduced by Mark Safstrom. (Wipf & Stock 2015)
Articles and chapters
"The Polar Hero's Progress: Fridtjof Nansen, Spirituality, and Environmental History" in "Arctic Environmental Modernities: From the Age of Polar Exploration to the Era of the Anthropocene." Eds. Lill-Ann Körber, Scott MacKenzie, and Anna Westerståhl Stenport. (Palgrave MacMillan 2016)
"Writing History Together; Norwegian- and Swedish-American Historians in Dialogue" in "Friends and Neighbors? Swedes and Norwegians in the United States." Eds. Dag Blanck and Philip J. Anderson. (Minnesota Historical Society Press 2011)
Translations in edited volumes
Viktor Rydberg. "Starlight on sea and sand/Gläns över sjö och strand" in Swedish hymns and the stories behind them. Edited by Per Harling. (Verbum 2016)
P. Waldenström. "Squire Adamsson" in Scandinavian Pietists: Spiritual Writings from 19th Century Norway, Denmark, Sweden, and Finland. The Classics of Western Spirituality Series. Edited by Mark A. Granquist. (Paulist Press 2015)
Research at the Augustana Digital Commons
The Changing View of the Arctic: The University of Illinois and Arctic Studies
Making Room for the Lost: Congregational Inclusivity in Waldenström's Squire Adamsson
Defining Lutheranism from the Margins: Paul Peter Waldenström on Being a 'Good Lutheran' in America
Squire Adamsson: Or, Where do you live? An allegorical tale from the Swedish awakening, by Paul Peter Waldenström
Silliness and Stillness: A History of Covenant Point Bible Camp in Michigan's Upper Peninsula
Courses taught
Swedish, all levels (SWED 101-380)
SCAN 242 - Crime Fiction
SCAN 250 - Vikings to Volvos: Scandinavian History
SCAN 341 - Arctic Narratives
SCAN 350 - Immigration History
HIST 114   - Medieval Europe: 200-1300
RELG 206 - Radical Lutherans
RELG 209 - Christian Theology
RELG 270 - Martin Luther: Life, Thought and Legacy 
 
Education
B.A., North Park University
M.A., Ph.D., University of Washington