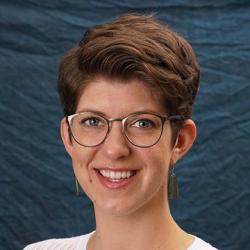 Lena R. Hann
Assistant Professor of Public Health
Dr. Lena Hann completed her Ph.D. in community health and gender and women's studies at the University of Illinois at Urbana-Champaign, and holds a Master of Public Health in community and behavioral health from the University of Iowa.
Prior to joining Augustana's faculty, Dr. Hann coordinated the Master of Public Health program at the University of Illinois and taught a variety of courses including Human Sexuality, Leadership in Health, and Global Health and Diversity study abroad in Australia. She also served as Education Programs Coordinator for Planned Parenthood of Illinois in Champaign from 2008-2011 and helped open the University of Iowa's LGBT Resource Center in 2006.

Dr. Hann's scholarly interests include reproductive and sexual health care and services, feminist public health practice, and stigma in health. Her current research examines clinic workers' experiences at abortion care facilities, and she has presented this work at national and international conferences.
2016-2017 Augustana Courses:
PUBH 100: Global Issues in Public Health (Fall, Winter, and Spring terms)
PUBH 380 (Special Topics): Sexuality and Human Health (Winter term)
PUBH 460: Senior Inquiry Research and Reflection (Spring term)
Education
B.A., Sociology, Women's Studies, Cornell College
M.P.H., Public Health, University of Iowa
Ph.D., Community Health and Gender and Women's Studies, University of Illinois at Urbana-Champaign