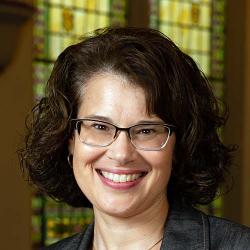 Kristin Douglas
Associate Dean of the College
I have always loved biology. I grew up on a farm in northwest Illinois, and watching plants and animals grow sparked many questions for me. My biology courses in middle and high school seemed to answer many of my questions, so the study of biology seemed a natural fit for me.
After high school, I attended Waubonsee Community College for two years to earn my associate's degree in Biology. I then transferred to the University of Iowa to finish my bachelor's degree in biology. It was at Iowa that I got my first taste of genetic research.
 I will never forget the day my undergraduate genetics professor announced that he was looking for students to do Drosophila research in his lab. I started working in the Nagoshi lab soon thereafter. I loved setting up crosses, running gels, and learning how to think like a research scientist.
I enjoyed research so much that I decided to go to graduate school to earn a PhD. I joined the Human Genetics Department at the University of Michigan to perform my graduate work, and I studied pituitary gland development for my dissertation project. You have not lived until you have dissected hundreds of embryonic mouse pituitary glands!
I earned my PhD in 2000 and then changed model systems for my post-doctoral research. I still wanted to understand how organisms develop, but I began investigating this question in C. elegans, a small nematode.
 I joined the Biology Department at Augustana in 2003 teaching genetics, developmental biology, cell biology, and senior inquiry courses on molecular topics such as microRNAs and epigenetics. My emphasis as a teacher is to improve my students' learning skills and to help my students see facts and details in a larger context. I particularly enjoy discussing social and ethical issues related to the scientific material I teach in my courses.
 My research program is focused on understanding how cells choose their fates during development. Specifically, I study germ cell fate in C. elegans. Students working in my research lab gain experience in Mendelian genetics, molecular genetics, cell biology, and cell physiology research.
I am currently taking a break from teaching as I serve Augustana in the role of Associate Dean of Student Success and Persistence. In the Academic Affairs Office, I lead our advising and student success efforts, supervise the Honor Council, and serve as the liaison between Academic Affairs and Student Affairs.
In my spare time, I enjoy spending time with my family, cooking, baking, cake decorating, and gardening.
Specializations: Genetics, C. elegans, Developmental biology, Academic advising, Stem cells, Student Success, academic affairs
Education
A.S., Waubonsee Community College
B.S., Iowa
M.S., Ph.D., Michigan