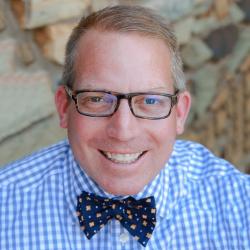 Kent Barnds
Executive Vice President of External Relations
Kent Barnds is Executive Vice President of External Relations at Augustana College. 
He joined the college in the summer of 2005 as vice president of enrollment. Today, Kent oversees the offices of admissions, financial assistance, communication and marketing, web services, development, alumni relations, athletic program fundraising, parent relations and WVIK — Augustana Public Radio. 
During the summer of 2012, Kent served as acting president, during President Bahls' sabbatical. 
Prior to joining Augustana, Kent worked for Elizabethtown College in central Pennsylvania for 13 years. At that institution he advanced from admissions counselor to a number of director positions to Dean of Admissions and Enrollment Management. He has long held an interest in Augustana, as his mother, Deanna Gustafson Barnds, graduated from Augustana in 1959. 
Kent received his B.A. from Gettysburg College and his M.S. in management from Regis University.
Kent Barnds' professional record also exemplifies his leadership abilities. He has presented frequently at the Conference of Lutheran College Enrollment Officers, and Illinois Association for College Admissions Counseling, and has served as a delegate with the National Association for College Admission Counseling. 
As a consultant for higher education admissions offices, he lectures on a wide variety of higher education topics ranging from college admission interviews and essays to the value of a four-year degree from a private college.
He has published articles in Inside Higher Education, University Business Magazine, Denver Post and Next Magazine, and has served as a higher education enrollment expert to local and national media such as The Chronicle of Higher Education, Washington Post., The Daily Beast, US News and World Report and The Wall Street Journal. 
He has written about staff development, performance management in admissions and has developed a set of performance assessment tools to use in college admissions.
Kent Barnds was born Gering, Neb. He and his wife, Jennie, have three children, Martha, Sophie and Ben. Kent and Jennie are members of St. Paul Lutheran Church in Davenport, Iowa, where he serves an assisting minister and lector and chairs the Personnel Committee. 
He also served the Quad Cities community as a Rivermont Collegiate Board of Trustees member for nine years. He also has led three strategic planning processes for independent blood centers from across the country. 
Kent enjoys traveling, cooking, jazz, Lyle Lovett, the Grateful Dead and cycling, and he believes "the option" remains the most exciting styled football offense.
Specializations: College admissions, Financial aid, Higher education marketing, Public relations, Strategic planning, Higher education leadership, Admissions Staff Development, Admissions, Advancement
Education
B.A., Gettysburg College
M.S., Management Regis University