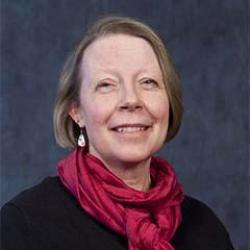 Katie Hanson
Associate Professor of English and Education
I love reading. I have always loved reading. When I was in elementary school, I would check out the maximum number of books I was allowed to take home each week. I'd park myself on the couch and read one after another. Thus, no one was very surprised when I decided to teach literature and writing.
I started out teaching middle school, then I was a writing specialist for St. Paul Schools in Minnesota, and then I came to Augie. Now I teach classes in the English department and the education department at Augustana. I am passionate about teaching writing and literature classes because I love helping students learn how to think and write clearly.  
In the education department, I teach secondary language arts methods and literacy courses, and I work with future teachers in my classes and out in the area schools. Together we learn about the art of teaching.
I love to travel also, so I have been to Vietnam twice with the Augustana Vietnam program and my husband, Dr. David Crowe (in the English Department), and I co-direct the Augustana Norway program. 
I enjoy studying literacy and learning so I can improve my own teaching and help my future teachers be well prepared for their future classrooms.
I lead writing and curriculum workshops in the Quad Cities community and also serve on curriculum committees in the Davenport Community Schools. My husband and I co-lead a book club at St. Paul Lutheran Church. I am currently president of the CommUniversity Board, which is a community education program in the Quad Cities.
I also teach Creative Writing in Augustana's Summer Academy program, which is an on-campus program open to high school students each June.
Specializations: Writing in schools, Augie Reads program, Summer Academy Faculty
Education
B.A. Luther
M.A., St. Mary's (Minnesota)