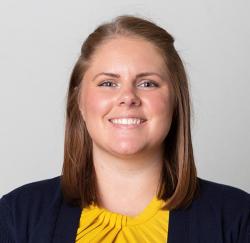 Kassidy Belcher
Admissions Counselor
Schedule a meeting with Kassidy
Hometown: Crystal Lake, Ill.
Current town: Davenport, Iowa
What do you most love to tell prospective students about Augustana?
Augustana truly is more than a place. It is a family filled with driven individuals who are not afraid to get their hands dirty, fail and fail again until they reach their goals. Everyone here is extremely welcoming and the faculty/staff are truly driven to support their students through everything they do. 
What is your favorite time/tradition of the Augustana school year?
Spring! Watching campus come alive as the days start to get warmer is truly a breathtaking experience. Students will picnic in the lower quad or hammock in the trees, and you can feel the smile spread across Augustana's face. 
What's great about the Quad Cities?
It is such a large area with something for everyone. Whether you enjoy studying in local coffee shops, are searching for the best pizza in the QC or just want to enjoy a day by the river, the Quad Cities is an awesome place to call home!
What do you like to do around the community?
During the summer months, I LOVE either going to the farmers market for fresh vegetables or picking them myself at Happy Hollow U-Pick in East Moline. This gives me a chance to enjoy the outdoors! I am also obsessed with movies, so I try to go to the drive-in theater in Blue Grass when I can. 
What do you enjoy doing outside of work?
I like to check out local festivals or just snuggle on the couch and watch a good movie to decompress. 
What advice do you have for students who are searching for the right college for them?
Find a place where you will feel comfortable failing over and over again. College is a time where you will start to find yourself, and you want a home filled with individuals that will help pick you back up each and every time you fall in the process. Augustana was that for me, and I can't wait to help you discover your home away from home.
 
Specializations: Admissions
Education
B.A., Augustana College
M.S., North Central University