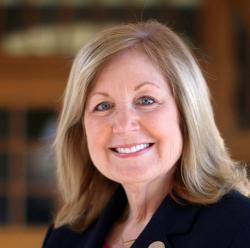 Karen M. Petersen
Associate Director of Development and Engagement
Karen M. Petersen is the associate director of development and engagement for the Chicagoland region at Augustana College. Working on a strategic initiative detailed in Augustana 2020, she works with young alumni to expand affinity for Augustana and strengthen the donor base.
Before working in Advancement, Karen had served as the director of employer relations and internships within CORE and Career Development since its inception in 2014. She had directed all domestic internship programs as well as programs in Sydney, Australia, and London.
In focusing her efforts to build employer relations, she launched the Handshake career platform which serves students, employers, and staff. The efforts of the employer relations team resulted in 77 percent engagement of students on Handshake, and an eight-fold increase in job/internship postings for students. 
Prior to taking a lead in CORE, Petersen taught marketing and new product classes in the college's Department of Business Administration, and lead the initiative to build Senior Inquiry (capstone) and academic internships within the department.
She has presented at past National Society of Experiential Education and MWACE conferences in 2016, 2015 and 2009. She is a regular presenter in campus workshops and internship seminars for students and faculty. In 2016, she graduated from the NSEE Experiential Education Academy, and was invited to instruct workshops for NSEE. 
Petersen is ABD in higher education administration at Illinois State University. She holds an MBA from the University of Iowa and bachelor of arts in business administration and psychology from Augustana. In addition, she has earned a leadership certificate from Northwestern University.
Karen is married with two grown children and one grandchild.
Specializations: Advancement
Education
B.A., Augustana College
M.B.A., University of Iowa