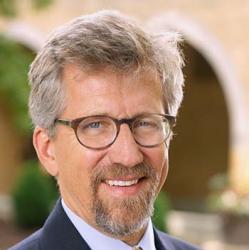 Kai S. Swanson
Special Assistant to the President
Kai Swanson is special assistant to Augustana College's president, Steve Bahls, a position he's held since 2005, though he's been on the staff of the college since his graduation in 1986.
He grew up in Rock Island, just across Lincoln Park from campus. His past positions at Augustana include news editor for WVIK-Augustana Public Radio, public relations director for the college, and editor of the Augustana College Magazine. In 2011, he served as interim general manager of WVIK, then in 2014 was interim director of the Augustana Teaching Museum of Art.
Kai serves on the Rock Island County Board, is president of the Rock Island County Forest Preserve Commission, and serves on the boards of the National Association of Presidential Assistants in Higher Education and the Doris & Victor Day Foundation. He is president of the Augustana Historical Society, and is a 26-year member of the Quad Cities Holocaust Remembrance Committee.
Since 1996, he has presented Concert Conversations prior to each Quad City Symphony Orchestra concert, and is the radio voice of the QCSO on WVIK.