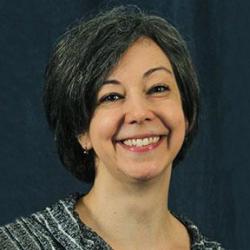 Jennifer E. Popple
Associate Professor of Theatre Arts, Chair
Dr. Popple is an Assistant Professor in the Departments of Theatre and Women and Gender Studies where she teaches Theatre History, Dramaturgy, Introduction to Theatre, Feminist Theories, and Gender, Race, and Sexuality in Popular Culture.
Prior to joining the Augustana Faculty, Dr. Popple taught at Knox College and the University of Colorado at Boulder.
In addition to her educational interests, Dr. Popple has acted and directed in educational and professional stage productions, including Beaumarchais' Figaro, William Shakespeare's The Taming of the Shrew, Paula Vogel's How I Learned to Drive, and Eric Bogosian's subUrbia. Dr. Popple has also served as a production dramaturg for a variety of plays, including William Shakespeare's Macbeth and Lorraine Hansberry's A Raisin in the Sun and has presented her work at a number of professional Theatre conferences.
Her publishing record includes chapters and her forthcoming book, Spectacular Bodies, will connect England's first actresses to the social and political changes of the 17th century. Dr. Popple is a member of the American Theatre in Higher Education association.
Specializations: Theatre, Gender, Dramaturgy, Theatre history, Restoration theatre, Restoration actress, Feminist theories, Sexuality in popular culture, Masculinity studies, Women playwrights
Education
B.A., Drake University
M.Ed., University of Utah
Ph.D. University of Colorado