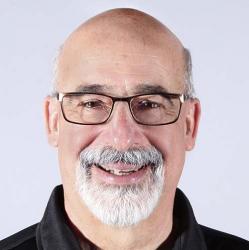 Jeffrey L. Coussens
Professor of Theatre Arts
Prior to joining the Augustana faculty Coussens taught at the School of Drama, Oklahoma University.  During his 25-year academic career he has directed over 50 stage productions and acted in more than thirty roles. 
He has also worked as a professional actor and director at a variety of venues including the Oklahoma Shakespeare Festival, Brown County Playhouse, Black Hills Playhouse, Street Players Theatre, and Dollar Stock Summer Theatre. Coussens has also done work in voice-overs, commercials, film and web-video.
His special area of interest is stage combat. He is a member of the Society of American Fight Directors and he has choreographed fight scenes for many Shakespeare productions including Othello, As You Like It, Hamlet, and Macbeth. He is also a member of the Illinois Theatre Association, Theatre Communications Group, and the Association for Theatre in Higher Education. 
Specializations: Stage combat, Acting, Directing, Theatre
Education
A.B., Augustana
M.F.A., Indiana