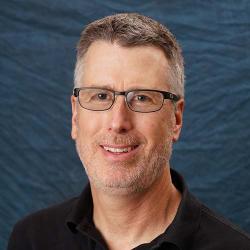 Jeffrey C. Strasser
Professor and Chair of Geology
Although I consider myself a geomorphologist, I have broad interests in the geosciences. My PhD work focused on processes of sediment transport and deposition by temperate glaciers, while my MS research focused on marine sedimentation and tectonics. I am also interested in stratigraphy, structural geology, and tectonics. My active research these days is mostly on midwestern Quaternary and Holocene deposits as well as environmental geochemistry.
At Augustana I teach:
GEO-101 Physical Geology
GEOL-105 Physical Geology in the Rocky Mountains (first-year students only)
GEOL-116 Energy Resources (Learning Community)
GEOL-309 Geomorphology
GEOL-330 Hydrogeology
GEOL-340 Structural Geology
GEOL-450 Research Methods
GEOL-451 Senior Inquiry (independent advising)
I am also engaged in the College's Environmental Studies Program, teaching several core courses, serving on its advisory board, and assisting in advising student.
Specializations: Geomorphology
Education
B.A., Carleton
M.S., Ph.D., Lehigh