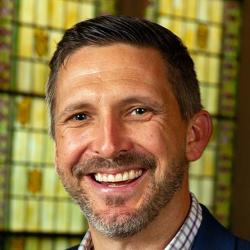 Jason A. Mahn
Professor of Religion, Director of the Presidential Center for Faith and Learning, Conrad Bergendoff Professor in the Humanities
(Related link: Professor Jason Mahn and Augie students reflect on teaching and learning about Christianity among diverse students. Video by Augustana student Josie Ngo, Class of 2020.)
After completing his Ph.D. at Emory University (2004), Jason taught full time at Duke University (Durham, N.C.) for three years before coming to Augustana, where he teaches courses in theology and contemporary religious belief.  
He is an associate professor of religion, and also directs Augustana's new Presidential Center for Faith and Learning.  
Jason has published a number of scholarly articles about contemporary Christian theology and religious belief, suffering, vocation, secularism, and temptation and sin. His first book, "Fortunate Fallibility: Kierkegaard and the Power of Sin" (Oxford University Press, 2011), put the theology of Søren Kierkegaard "in conversation" with an old and peculiar Christian tradition that thought of human sin as a good thing — in light of Christian redemption. 
 
Jason's second book is entitled, "Becoming a Christian in Christendom: Radical Discipleship and the Way of the Cross in America's "Christian" Culture" (Fortress Press, 2016). It puts Lutheran critics of cultured Christianity (Bonhoeffer, Kierkegaard, Soelle) together with critics from the radical Reformation (Yoder, Hauerwas, the "new monasticism" communities) in order to consider what faithful Christian discipleship looks like in an American culture that privileges but also relativizes and privatizes the Christian tradition.
Jason also has co-authored and edited two additional volumes, "The Vocation of Lutheran Higher Education" (Lutheran University Press, 2016), and "Radical Lutherans/Lutheran Radicals" (Cascade, 2017). Both of these books are being read by faculty, staff, and administrators from various ELCA colleges and universities, especially during the 500-year anniversary of the Lutheran Reformation. 
Jason helps support such faculty development by leading ALE (Augustana as Lutheran Education) at Augustana, as well as by editing the journal "Intersections: Faith, Learning, and Vocation of Lutheran Higher Education."These initiatives are part of the work of the Presidential Center for Faith and Learning, whose mission is to "lift up and live out Augustana's five faith commitments."
Courses taught by Professor Mahn:
RELG 155 Encountering Religion
RELG 209 Christian Theology
RELG 328 Theological Investigations
RELG 335 Luther: Life, Thought, and Legacy
RELG 383 Creator, Creation, and Calling (a Holden Village course)
RELG 391 Suffering, Death, and Endurance
Specializations: Christian theology, Kierkegaard, Luther, Contemporary debates about secularism and faith, Pacifism, Lutheran higher education, Protestant reformations
Education
B.A., Gustavus Adolphus
M.A., Luther Theological Seminary
Ph.D., Emory University