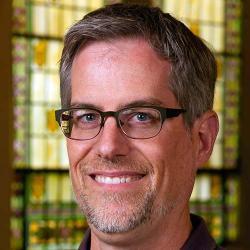 Jason A. Koontz
Professor of Biology
Prior to coming to Augustana, I worked as a botanist at the Illinois Natural History Survey, based on the University of Illinois Urbana-Champaign campus, doing plant surveys at road construction sites and maintaining a research program in molecular plant systematics (using DNA to understand how plants groups are related to one another).
At Augustana I shifted my research towards conservation genetics (using DNA to unravel levels and patterns of genetic variation to aid management decisions) of rare plants in Illinois and California focusing on the larkspur genus, Delphinium. I am continuing to study several rare species of larkspurs in California. I revised the Delphinium treatment for the Jepson Manual 2nd ed, the flora of California. I am also writing a field guide to the Southern California larkspurs.
In Illinois, my students and I are studying the state-endangered hill prairie larkspur that is restricted to three counties in Western Illinois. I am also the director of the Augustana Herbarium and students and I are currently getting the entire collection digitized and databased with the Consortium of Midwest Herbaria
I teach introductory courses in biology and environmental studies, conservation biology, and Senior Inquiries in conservation biology and natural history collections.
I strive to have interactive courses that get students involved and engaged with the material. I want to help my students connect their coursework to the rest of their major(s)/minor(s), non-biology and environmental studies course work, and their lives.
As biologists we are often perceived as being stuck in a lab wearing white lab coats. I hope that my students and I can change that perception while working to integrate our passion for living things with issues like social and environmental justice.
 
Specializations: Plant conservation biology, Native plants, Hill prairies, Delphinium, Larkspur, Botany, Invasive species-plants
Education
B.S., Iowa State
M.S., Miami University (Ohio)
Ph.D., Washington State