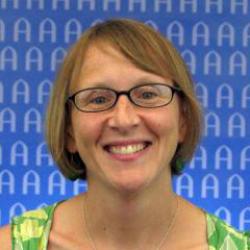 Jane Simonsen
Professor of History
Jane Simonsen received a Ph.D. in American Studies from the University of Iowa in 2001 and has been a member of the history department at Augustana since 2006.
She teaches survey courses in American history and and upper level courses on the history of marriage and on American women's history. She also teaches courses in the Women's and Gender Studies programs as well as in the first-year Liberal Studies program and Honors program. She is currently the Coordinator of the Women's and Gender Studies program.
Her research interests include women and work in the U.S., Native American assimilation, material culture, and the American West. Her book, "Making Home Work: Domesticity and Native American Assimilation in the American West, 1860-1920," traces relationships between white women reformers and Native American women that occurred as part of government-sanctioned attempts to assimilate Native Americans.
These interests were stimulated by her undergraduate research experience and close relationships with faculty mentors, and she values and encourages this discovery process among her students at Augustana.
Simonsen is the past president and currently a member of the executive board of the Mid-America chapter of the American Studies Association (ASA)and serves on the ASA's K-16 Collaboration Committee.
Specializations: Gender studies, U.S. women's history, Native American studies, images and history
Education
B.A., Gustavus Adolphus
M.A., Ph.D., University of Iowa