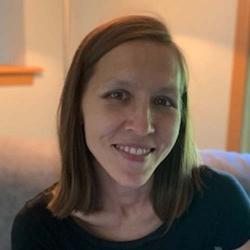 Elizabeth Lawrence
Assistant Professor of History
Elizabeth Lawrence is a historian of China, East Asia and the world. She has been traversing the Pacific, physically and intellectually, for most of her life. Growing up in Hawai'i and Colorado, she learned to love stories. At Grinnell College, she honed her appreciation of the liberal arts and the humanities. At Columbia University, she specialized in the history of modern China, pursuing interdisciplinary interests in the study of heritage, memory and material culture. At Augustana College, her expansive teaching interests have led her to develop wide-ranging scholarly projects, with a recent focus on transpacific history.
Dr. Lawrence contributes to Augustana's interdisciplinary Asian Studies program. She teaches courses on the history of premodern and modern East Asia, twentieth-century China, the Japanese Empire and the modern Olympic Games.  
In addition to her scholarly publishing, she occasionally reviews fiction and scholarship for Asian Review of Books. 
Selected publications:
"Americans All: Swedish Vice Consul Gustaf Olson and the Incarceration of Japanese Immigrants and Japanese Americans in World War II Hawai'i," The Swedish-American Historical Quarterly, 74, no. 1 (January 2023). The research for this article was conducted in Honolulu with support from an Augustana College William F. Freistat Student-Faculty Fellows grant. Research was conducted alongside Brittany Murphy '22. 
"Teaching the Global Cold War with Korean Adoptee Oral Histories," World History Connected 19, no. 2 (2022), https://doi.org/10.13021/whc.v19i3.3321.
"The Exhibitionary Complex in Nanjing Decade China: The National Fine Art Exhibitions of 1929 and 1937," Studies on Asia 6, no. 1 (2021). Available open access.
Education
B.A., History and English, Grinnell College
Ph.D. and M.A., East Asian Languages and Cultures, Columbia University