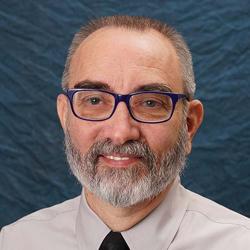 Douglas E. Tschopp
Director of the Entrepreneurial Center (EDGE)
Doug Tschopp has worked on projects in public relations, marketing and advertising for firms in eastern Iowa and western Illinois. He teaches public relations courses under communications studies.
He is the advisor for many pre-professional student groups, including the Augustana Web Guild (entrepreneurial student web organization) and the ADs (Advertising Developers) group. The ADs group works on developing a strategic marketing plan for an actual client each year as part of the National Student Advertising Competition. The written plan is judged by the client and professionals from advertising agencies and the competition concludes with a "pitch" of the plan to the client at regional and national competitions. These organizations give students the opportunity to develop professional portfolios.
Doug is also very active in local and national professional organizations and encourages students to explore this as a professional development opportunity. He serves as a long-standing board member for the Quad Cities Public Relations Network and is the former executive director for Genesius Guild, a classic theatre company.
His experience in strategic web communication is highlighted by his long tenure as program chair for HighEdWeb, a prominent conference for web development in higher education.
 
Specializations: CORE
Education
B.A., Pittsburgh
M.B.A., Iowa