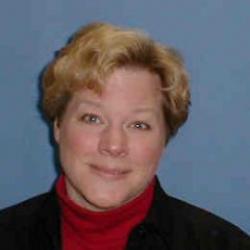 Cynthia A. Lambrecht
Instructor of Music; Oboe, Woodwind Methods
Cynthia A. Lambrecht has been the Instructor of Oboe and English horn at Augustana College since 1989. She also teaches Woodwind Methods, Oboe Pedagogy, Oboe Literature, Music Appreciation and coaches wind chamber ensembles. Each June Mrs. Lambrecht is a member of the music faculty for the Indiana University Summer Music Clinic in Bloomington, Indiana. From 1985-1988 she taught at Olivet College and Spring Arbor College in Michigan.

She received her B.M. degree in Oboe/English Horn Performance from Illinois State University in 1982 where she studied with John Ferrillo. In 1984 she completed a M.M. in Oboe/English Horn Performance with a minor in Musicology at Indiana University. While at Indiana, Mrs. Lambrecht studied with Jerry Sirucek and Dr. Malcolm Smith. She also held a Graduate Assistantship in Musicology under Dr. Austin Caswell.

Mrs. Lambrecht currently performs with the Augustana Faculty Wind Quintet and freelances throughout the Midwest. She is frequently asked to judge as well as clinic high school and college age students. She has been English hornist with the Quad City Symphony Orchestra, oboist with the Augustana Wind Quintet Outreach Tours and the Bloomington-Normal Symphony Orchestra. She has also performed with Cedar Rapids Symphony Orchestra, Battle Creek Symphony, Camerata da Musica (Battle Creek), and the Ft. Wayne Chamber Orchestra.
Education
M.M. Oboe, Indiana University