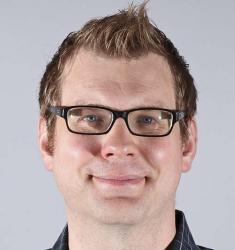 Brian J. Leech
Associate Professor of History
Brian Leech teaches courses in the first-year sequence about food studies and images of the natural world, as well as courses for the history department on modern U.S. history, oral history, public history, the environment, and health.
Students in his recent courses have researched health care artifacts for the museum at Palmer College of Chiropractic, developed a digital historical map of the nearby Keystone Neighborhood, and crafted an oral history of the local WWII homefront with the help of the Rock Island Arsenal Museum. Leech also serves as a first-year advisor and teaches an advising course. 
A native Montanan, Leech uses his personal research as an excuse to return to the mountains. He recently has published a book about the intended and unintended consequences of open-pit mining in Butte, Montana.
The book is "The City That Ate Itself: Butte, Montana and Its Expanding Berkeley Pit" (University of Nevada Press; Feb. 28, 2018). In this podcast, Dr. Leech discusses the book and his interests in history with Christina Lamberson, assistant professor of history at Angelo State University.
He also recently has started research on a couple of new projects. One looks at the portrayal of mining in popular culture and another investigates the history of speed limits in the American West. 
Specializations: Environmental history, North American West, Mining, Labor, Masculinity, Ethnicity, Advising, Oral history, Film, Public history, Food studies
Education
B.A., University of Montana
M.A., Ph.D., Wisconsin-Madison