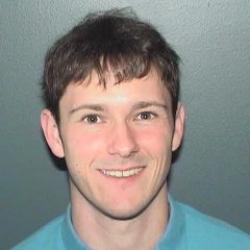 Brett A. Biebel
Teaching Fellow of English and First Year Inquiry
Brett Biebel's research focuses on the ways in which language and storytelling impact our lives. He's especially interested in literature, athletics and the law.
His fiction has appeared in Great River Review, Bartleby Snopes, The Writing Disorder, and Line Zero, as well as in other literary journals. His academic work has been featured as a part of several regional conferences and appeared in The Kenneth Burke Journal.
When he's not reading or writing, he enjoys watching baseball, especially the Milwaukee Brewers, and running. His favorite authors are David Foster Wallace and Robert Bolano. He teaches courses in speech, composition and the law.
Education
B.A., Saint John's University
M.A., University of Minnesota-Twin Cities
M.F.A., Minnesota State University