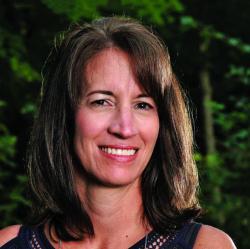 Bonnie Jessee
Associate Director of Admissions and Transfer Enrollment
Schedule a meeting with Bonnie
What do you most love to tell prospective students about Augustana? I love to tell prospective students about the tremendous opportunities, on and off campus, available to enhance their education and personal interests.  I also love the close knit welcoming community of students, faculty and staff.
Do you do other activities around campus (coaching, student group advisor, etc.)? I attend all the Augustana men's basketball games at home and many on the road, cheering for the team (my husband is the Assistant Coach)
What is your favorite time/tradition of the Augustana school year? Men's Basketball season (January-March). The team gets tremendous support from the community, faculty/staff and students. The time flies and the games are a lot of fun to attend. 
What's great about the Quad Cities? The diversity of the Quad Cities, the multitude of things to do and the friendliness of the people.  For students, they have so many possibilities to get involved in the community through service, volunteering and internships.
What do you like to do around the community? I enjoy doing a little bit of everything.  The Quad Cities has so much to offer: biking on the river paths, dining out at local restaurants, attending various fairs and markets, golf, and exploring sites just outside the quad cities.  I also like to work in my yard landscaping, spend time painting and reading books in my free time. 
Why did you decide to work in this field and/or at Augustana? I enjoy working with and helping to guide prospective students who are making one of the most important decisions as a young adult. I was a first generation college student and there was so much I did not know.  I like the feeling that I was also to provide students with information they need in order to make the best college decision for them.
What advice do you have for students who are searching for the right college for them? Visit several schools before your senior year in high school and during your senior year visit those schools you are interested in a second time.  Most important: go with what feels right and is most comfortable for you.
Territory
Transfer Students.
Connecticut
Delaware 
District of Columbia
Maine 
Maryland 
Massachusetts 
New Hampshire 
New Jersey 
New York
Pennsylvania
Rhode Island
Vermont
Virgina
West Virginia
Specializations: Transfer recruitment, First year recruitment, Augustana summer academy (enrichment courses for high school students), Admissions
Education
A.S., Wm Rainey Harper College
B.B.A., Iowa State University