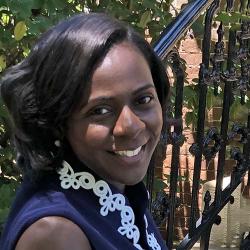 Ashley Burge
Assistant Professor of English
Ashley Burge is a native of Birmingham, Alabama, and her research on race, gender, class, and sexuality in African American literature is greatly influenced by the rich civil rights history of her hometown.  
She completed her dissertation in 2019 from the University of Alabama on the works of Toni Morrison and several of her contemporaries. Her dissertation establishes a theoretical paradigm that interrogates spaces of resistance for tragic African American literary figures as a means to process trauma.  
In addition to studying 19th and 20th century African American literature, Dr. Burge has studied the Black aesthetic, Black immigration, and Black foreign policy at the Black Europe Summer School in Amsterdam, the Netherlands.
Her essays have appeared in the North Carolina Literary Review, the African American Encyclopedia of Culture, and the critical anthology Through Mama's Eyes. Her current research and teaching interests are Black Feminism, Ecofeminism, Hip-Hop Culture, and Black horror. Her forever muses are Toni Morrison and Beyoncé.
Dr. Burge enjoys spending time with family and friends, traveling, and bingeing good TV and books.
She has held teaching positions at the University of Alabama, the University of Alabama at Birmingham, and Wallace State Community College.    
Specializations: African American literature
Education
M.A. and B.A., University of Montevallo
Ph.D., University of Alabama