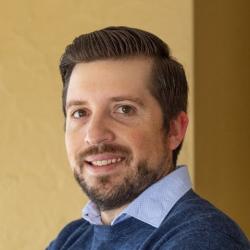 Anthony Panicucci
Digital/Video Communication Specialist
Born and raised in Geneseo, Ill., Anthony Panicucci  spent 12 years in the TV news industry working at various stations as a photographer, and has received a number of awards for his work. 
He has photographed many different events, from natural disasters like Hurricane Irene making landfall at Coney Island in New York City, to covering the Chicago Cubs winning the World Series in 2016. (GO CUBS!)
Panicucci also was the executive producer for the show "Brewed" that highlighted craft beer and featured breweries across the country.
"My passion is storytelling and I'm excited to capture the stories at Augustana College."
He lives in Geneseo with his wife Jenna, son Jack, twin girls Nora and Lily, and corgi Daphne.
Specializations: Communication and marketing
Education
B.A., Western Illinois University, broadcast journalism