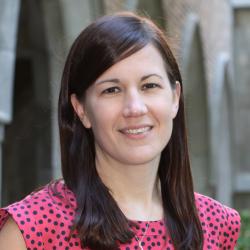 Amy Carton
Assistant Director of Admissions for Operations and Communications
Hometown: Bristol, WI
Current Town: Geneseo, IL
College Attended: University of Wisconsin-Platteville, 2004: BS in Communication Technologies Management with an emphasis in Public Relations and Journalism.
Office Responsibilities: I am responsible for entering all acceptance decisions into the college system as well as event registrations. I also send out a wide array of materials via mail or email to prospective students, including their acceptance packets.
What did you do before Augustana? After I graduated college, I spent 10 years as the Sports Editor for the Geneseo Republic newspaper in Geneseo, IL. I started at Augustana in the Fall of 2014.
What I like about working in the Admissions Office at Augustana? I have really enjoyed being involved with and seeing the admissions process from start to finish. It has been very interesting learning about all the behind the scenes processes. I also enjoy working with the staff and students in the Admissions Office.
What is your favorite time/tradition of the Augustana school year? Football and Basketball Season. My husband and I love watching sports and have really enjoyed cheering on the Vikings. It also has been fun to watch former Geneseo athletes continue their careers at Augustana.
What do you like to do around the community? I like to explore all the different things the Quad Cities has to offer – sporting events, farmers' market, concerts, restaurants, outdoor activities and running Race for the Cure.
Specializations: Admissions
Education
B.S., Wisconsin-Platteville