The Augustana College Campus Cupboard provides non-perishable food items and hygiene products to the student body. All Augustana students are welcome to take items from the cupboard.
The Augustana College Campus Cupboard was established in an effort to combat food insecurity among students. Food insecurity is defined as "not having reliable access to sufficient and nutritious food" according to the College and University Food Bank Alliance. The Cupboard offers supplemental non-perishable food items, personal hygiene products, and school supplies to students in need.
Campus Cupboard is open every Thursday from 10:30-12:20 and 6-8 p.m. For further information or any questions, email communityservice@augustana.edu.
User guidelines
The Augustana College Campus Cupboard is open to all students with a valid Augustana ID number. Students who enter the Campus Cupboard will be able to take as many items as they need.
Donations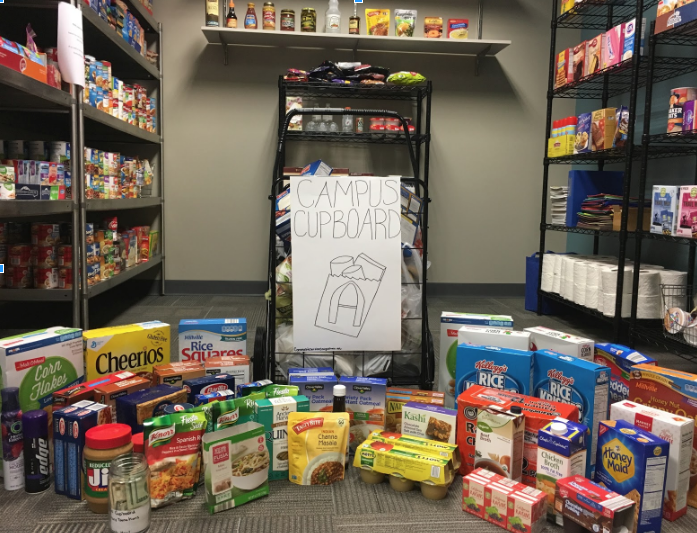 | Food Donations | |
| --- | --- |
| Cereal | Canned Soup |
| Oatmeal | Canned tuna/chicken |
| Granola | Canned fruits and vegitables |
| Crackers | Rice |
| Peanut Butter | Pasta and pasta sauce |
| Instant Potatoes | On the go foods |
| Hygiene Products | |
| Shampoo | Conditioner |
| Tooth Paste | Toothbrushes |
| Razors | Shaving cream |
| Dryer Sheets | Laundry Detergent |
| Hand soap | Dish soap |
| Body wash | Feminine Products |
To make a monetary donation, please make checks payable to Augustana College including Campus Cupboard in the Memo line.
All donations must be unopened to be accepted. Please email communityservice@augustana.edu to schedule drop off donations. 
Volunteer 
Click here to sign up to Volunteer -
link to handshake
Host a donation drive  
If you or your student group would like to host a donation drive please email communityservice@augustana.edu