Augustana Jazz Ensemble and Combos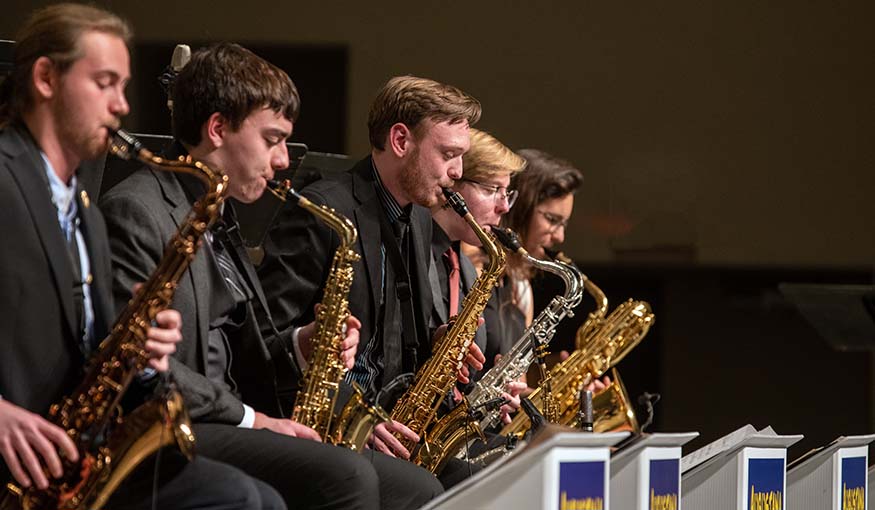 Ensemble Rehearsals: T/W/TH 5:45-7 p.m.
Combo Rehearsals: W 7-8 p.m.
Augustana Jazz Ensemble
The Jazz Ensemble is devoted to performing original compositions by jazz masters, past and present. The ensemble performs three scheduled concerts each year in Centennial Hall, focusing on a wide variety of styles including current stars such as Alan Baylock and Gordon Goodwin, as well as the enduring music made famous by the orchestras of Stan Kenton, Woody Herman and Count Basie, and composers such as Duke Ellington, Thad Jones, Billy Strayhorn and Charles Mingus.
Past concerts have included guest artists such as Tim Hagans, Paul Scea, David Berkman and The United States Air Force Jazz Combo. The jazz program also sometimes hosts special concerts featuring nationally and internationally known musicians such as Conrad Herwig and the Latin Side of Miles Davis, Jeff Coffin, Dave Douglas, and the David Berkman Quartet.
Jazz Combos
Augustana Jazz Combos perform three concerts a year. Music is chosen to expand students' abilities in various jazz styles. Special emphasis on group interaction and improvisation is stressed throughout rehearsals.