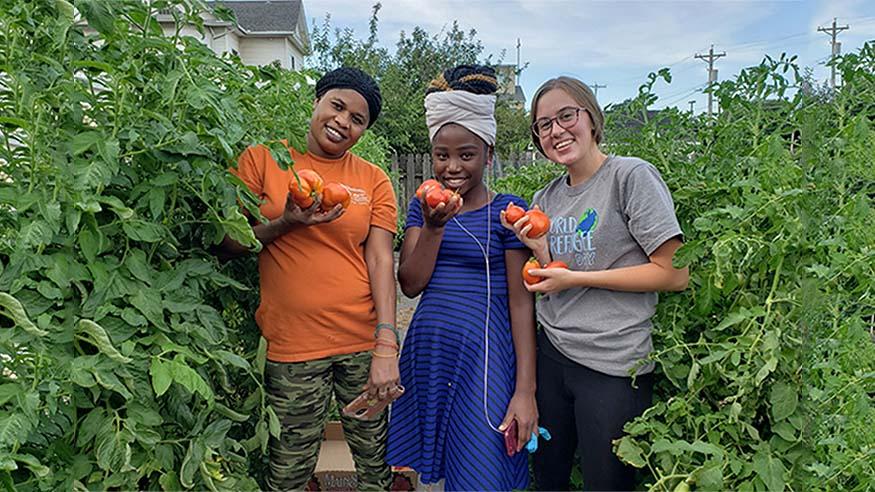 News
Vikinternships: Summer Internships in the Quad Cities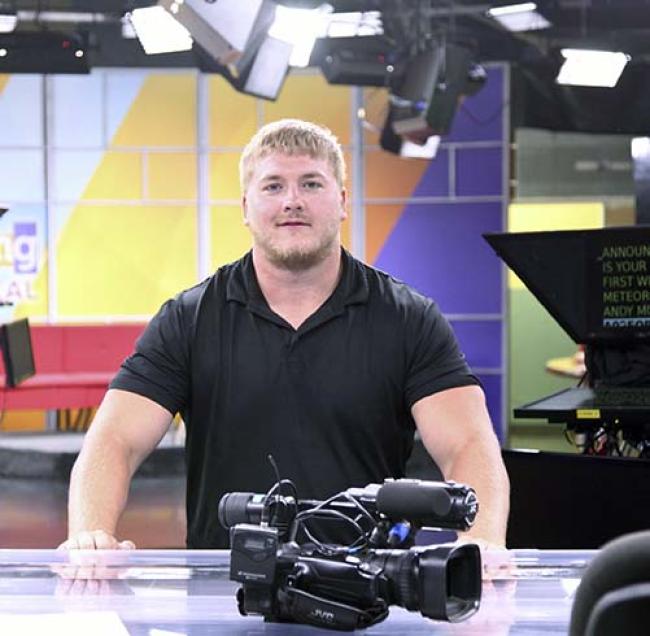 In Part 3 of the Vikinternships series, students get experience for a future as a newsroom journalist, a lawyer, and a humanitarian with a non-profit in Augustana's home, the Quad Cities.
Downtown Rock Island, just blocks from campus, Matthew McKay '20 (communication studies, multimedia journalism and mass communication) is in the WHBF Channel 4 sports department. His internship, however, isn't about fetching coffee for the anchors. 
"A lot of the days I'll go," McKay said, "and they'll give me the gear I'll need, and I'll go out and shoot a game, come back, write the script up for the news, edit it, and then most of the time the bit is featured on the news in some capacity."
During the academic year McKay works at Augustana's student-run newspaper The Observer as a sports editor. He wanted to experience a real newsroom.
"I wanted to see how the newsroom worked and how I liked being in the newsroom. Now my camera skills are getting a lot better and I'm able to shoot live action games," he said.
He had already used his Augie Choice $2,000 to travel to Ireland with the Vikings football team, so it was thanks to Augustana's Matt and Mindy McSparin Sports Business Award that he was able to fund his internship this summer. 
After every day of work, McKay can come home and watch his clips on live TV. "Channel 4 does Fox 18, so if I miss it on Fox at 9, I can catch it at 10. It's cool because I can say 'yeah mom, I shot that!'"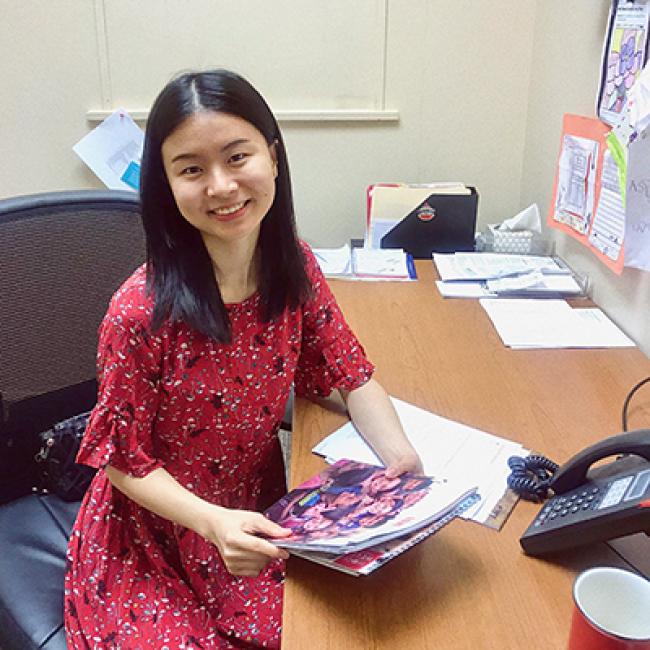 Meanwhile, in neighboring Moline, 
Genesis Li '21 (philosophy and political science majors, data analytics and ethics minors) is devoting her break to volunteering to help refugees with World Relief. All services for refugees and immigrants are free with World Relief, and Li emphasized that anyone can stop in the office at any time.
"I assist the immigration case workers with cases for either refugees or whoever is seeking political asylum from other countries to the United States. I need to do a lot of professional calls to clients….
"Also, I need to log information into a specific system, the USCIS (United States Citizenship and Immigration Services)," she said. "This is related to immigration services in the U.S. and is a government agency, so I'm pretty sure after law school in my future career as a lawyer, I need to be able to use this system."
As an Augustana student from Beijing, Li appreciates that Augie provides the opportunity for hands-on experience that relates to her major and her future. Though the World Relief internship is unpaid, Li was able to utilize Augie Choice to cover her expenses over the summer. 
"I feel like I'm doing something moral and nice for refugees, because they need a place, and they're nice people. No matter what political views we have, we should help them apply to the USCIS and at least do something good for world peace. 
"That's one of the things I'll carry for the rest of my life," she said. "How can we help people who are in need?"
Also helping people in need, 
Grace Fitzpatrick '20 (religion; women, gender and sexuality studies; nonprofit leadership) is busy assisting Tapestry Farms, whose overarching goal is to help refugee families settle into a new life in the Quad Cities.
Grace is a tremendous asset to our organization. The work she's done this summer has been invaluable to the people who are a part of Tapestry Farms. She's supported our fundraising and family support efforts in meaningful ways. I am looking forward to seeing all that she will accomplish in her life.
Though this is accomplished through many different approaches, Fitzpatrick described their primary focus as a program where refugees can work on a farm in a local public space, such as the St. Paul Lutheran community garden, while they develop the skills needed to thrive in the United States. 
Most of her work is aiding what are often single-mother families by finding places for them to live, driving their kids to school, and grocery shopping.   
"With Tapestry Farms I've learned how a small nonprofit starts, and all of the behind-the-scenes stuff. I've also worked on communication skills with people who don't speak English or who speak little English," she said. 
Making the human connection with people in need has been an eye-opener for Fitzpatrick. Occasionally, gardening with a refugee girl her own age has led to making a new friend, and she spends much of her time with a family of six kids. 
"They open up to me, and tell me about their life in Africa and their lives here," she explained. "It's powerful to hear about what they've been through and to be there for them. It's a huge help to just be present and connect with them."
— By Jack Harris '20, Augustana Writers Bureau