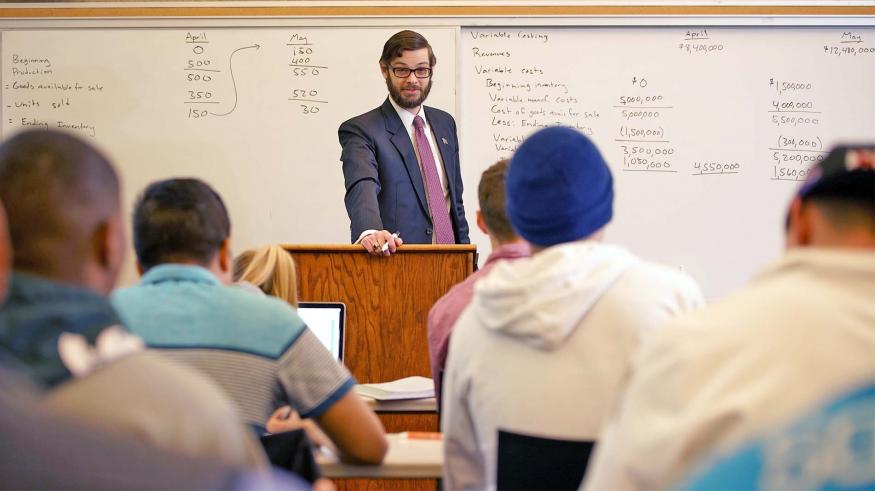 News
Tapis receives Outstanding Educator Award
When Dr. Gregory Tapis found out this spring he'd won the Outstanding Educator Award from the Illinois CPA Society, he was shocked.
"There are many outstanding educators in the State of Illinois, and I was honored just to be nominated," said Dr. Tapis, an assistant professor of accounting at Augustana. "Our department chair (John Delaney) is also a recipient of this award in a prior year, so I was happy to know I am contributing to the department's high standards of teaching."
The award, given in June, recognizes one or more educators at a community college, college or university who have made significant contributions to accounting education in Illinois through their leadership, teaching excellence and active involvement in the accounting profession.
"What also makes this award so special is one must be nominated by current students," Dr. Tapis said. "The fact students took time out of their busy schedules to nominate me and write supporting letters is very special."
Here are endorsements from Dr. Tapis' students:
"Dr. Tapis is a phenomenal professor. In the classroom, he thoroughly explains information in the best way possible for all students ... Outside of class, he is really welcoming to students and their questions or concerns. His office door is always open for anyone to stop by … His biggest philosophy is he wants all students to succeed and do the best they can …"
— Caitlin Amidei '18
Dr. Tapis' passion, intelligence and dedication are "so evident in every class he teaches. He not only gives us the tools we need to succeed, but most importantly, he inspires his students to push themselves to new heights and to believe that with hard work, their goals are achievable.
" In his classes, Dr. Tapis does not just prepare his students for a course test, he prepares us for our future careers … The enthusiasm he brings to every class is just one of the many reasons that Augustana students love taking his courses … The amount of time he gives to his students is truly amazing and inspiring. He has taught me that when you take the initiative to challenge yourself, that is when you can realize your true potential."
— Korina Freidag '18
"… I was an average student, and without Dr. Tapis' guidance and motivation, I would not have passed the CISA exam or have the opportunity to accept the job of my dreams. His support provided me the will and confidence to succeed. He is very charismatic in the classroom and makes real world connections to the subject matter tested. This made it hard to forget the key concepts on the exam. I am fortunate that I had the chance to … gain life-long advice from this outstanding educator. He has changed my life and many others, and I know he will continue to impact the learning community with his knowledge and persistence."
— Lauren Goggin '17
Dr. Tapis graduated summa cum laude with a B.S. in accounting from University of Massachusetts Dartmouth and holds a Ph.D. in business administration with a concentration in management from Mississippi State University. He holds the Certified Information Systems Auditor, Certified Public Accountant, Certified Management Accountant, Certified Financial Manager and Certified Fraud Examiner designations.
The 2017 Outstanding Educator Awards will be presented at the annual Illinois CPA Society Leadership Recognition Dinner in June.