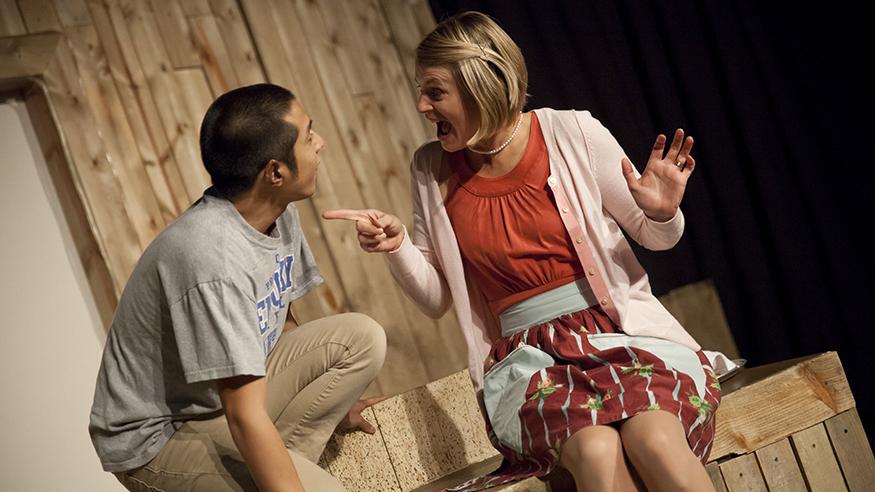 News
On stage, in the spotlight and in the Quad Cities
Spring 2019 will mark a some milestones for theatre at Augustana:
• Completion of the Anderson outdoor pavilion on the slope to the south the new Brunner Theatre Center.
• Graduation of some of the first students to take advantage of Augustana's musical theatre concentration, introduced in 2017.
• A third summer season for the Mississippi Bend Players.
Yet every year, alumni performing artists of all decades expand their work and impact in their communities. Jenny Engstrom '95 Winn and Calvin Vo '13 are two who shine on Quad Cities' stages.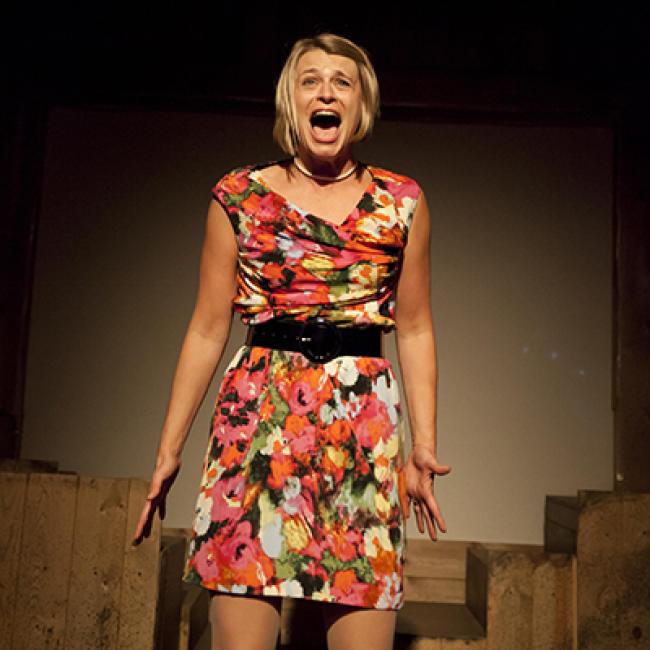 Winn is a part-time speech pathologist at the Black Hawk Education Center in East Moline, and an actor and singer familiar with the many musical theatre venues around the Quad Cities. After completing her master's at the University of Northern Iowa and returning to the Quad Cities in 2000, Winn found her "dream role"— as Guinevere in the Quad Cities Music Guild's production of Camelot.
"I landed that awesome role, which was so great, because nobody knew me," she recalled. "It was one of those crazy spur-of-the-moment ideas, and it just opened so many doors."
Since then she has landed many more roles in theatre and musical theatre, drama and comedy and more. She performs on professional stages such as Rock Island's Circa '21 and the Clinton Area Showboat Theatre on the Mississippi River—and also smaller community venues, such as the New Ground Theatre in Davenport's East Village and the Black Box Theatre in Moline. Most recently she was Sibella Hallward in A Gentleman's Guide to Love and Murder in Moline's new Spotlight Theatre, and most often you can find her with Quad City Music Guild on their summertime stage.
"If I had gone to a larger state school or some place that did not have that strong liberal arts component, I may not have been able to do it all."
It's gratifying but grueling work, and she takes breaks from the theatre. Married to Kirby Winn '94, the two are busy with two daughters. She also sings with Quad City Singers and a professional group, Nova Singers. 
But then, she said, "About every six months I start getting the itch again."
In 2014 Winn appeared on stage with fellow Augie grad Calvin Vo '13, who had the lead role as a half-boy, half-bat in Bat Boy: The Musical with the QC Theatre Workshop. Having graduated two decades apart, Vo and Winn hadn't met each other until then. 
Vo had starred in the creepy, quirky comedy when Augustana staged the musical in 2012, so it was very familiar to him. But Winn, he said, "came in with a new energy, a really bright sort of personality. I had a really great time."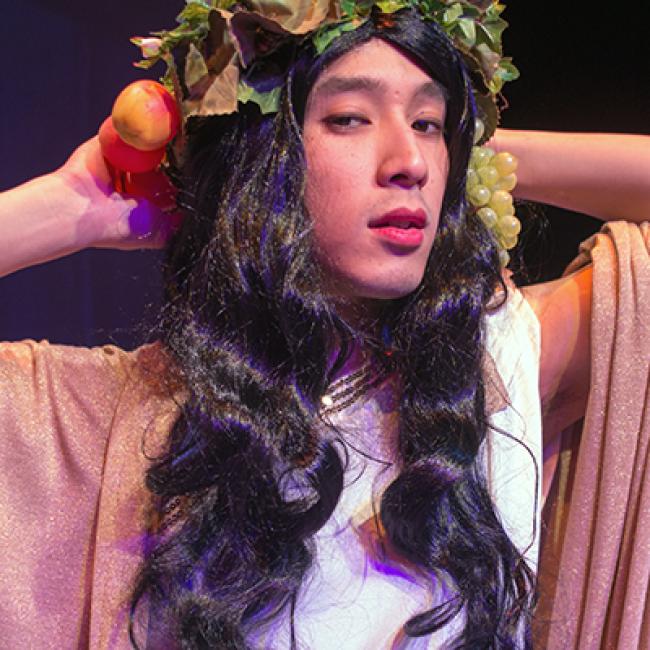 Currently, Vo is the speech coach at his high school alma mater, Moline High School, where he also has directed plays. He also instructs at Davenport Junior Theatre and performs locally. His next performance will be in the Tony Award-winning musical Avenue Q, at Playcrafters Barn Theatre in Moline this May.
Both alumni are excited about the growth in musical theatre at Augustana. About the new outdoor venue, Vo noted that theatre can be and is performed anywhere. Students should get a feel for working in non-traditional spaces, he said, because "that is something you run across constantly: non-traditional theatre spaces."
(This is certainly true of the Quad Cities, where along with traditional venues you can perform on a riverboat, in a barn, or in a stunning renovated temple, for example.)
At Augustana, Vo majored in English and theatre arts, and he's grateful for his well-rounded education. "It was a program that focused on teaching performers to be theatre artists, and not just an actor, or an actor and dancer," he said. "I felt really prepared and set up for the world, the professional world of being in theatre."  
Winn also felt prepared by Augustana to take on many roles in life, and not only onstage. 
"I would say probably the most influential thing about my time at Augie is learning that you really can do more than just focus on one area," Winn said. "If I had gone to a larger state school or some place that did not have that strong liberal arts component, I may not have been able to do it all."
Both Vo and Winn will continue to have opportunities to "do it all," whether they stay in the Quad Cities or head to Broadway. As Augustana graduates, taking advantage of many opportunities is something else they both do well.